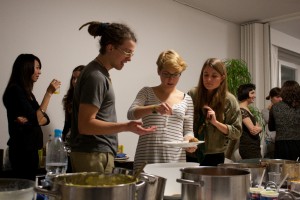 The first international dinner of this year provided everyone with a reason to put their culinary skills to good use. Those who cooked, despite having spent the day in various classes and then frequenting the supermarket for ingredients, produced highly tantalizing dishes native to their individual homelands.
The common room in K24 was packed with students and faculty members all looking forward to sampling the Ukrainian beetsoup, the Romanian mamaliga, the Hungarian Rakott krumpli and Turogomboc, the Kyrgyzian bread, the Pakistani pulao, some Arabian mashed potatoes and vegetables, spicy Indian noodles, Filipino seafood rice, and other delectable dishes. There is indeed something to be said for the ritual of gathering in one location and sitting down to a tasty meal and pleasant conversation.
Dessert was definitely a highlight with everyone queuing up for an Albanian chocolate covered fruit and biscuit concoction, Finnish egg pudding, and Tunisian cream fruit.
We ate, drank, and made merry into the wee hours of the night only to eagerly anticipate the next international dinner, even if it meant repeating culinary mishaps in a kitchen bursting at the seams with people and spending way too much money on biscuits.