Dear Reader, this is supposed to be an article about a recent event that took place on September, 11, 2013, at the Internationales Literaturfestival Berlin. It was a reading and discussion with Bosnian-American author Aleksandar Hemon on his recently released nonfiction work entitled The Book of My Lives. Yet allow me to defer talking about matters of actuality for some paragraphs, because, in a sense, things start in 1908; in another, they start in 1992; in yet another, in 2008; in another, in 2012; and in yet another, on March, 29, 2013. Now let me explain. Allow me to give sense to these numbers.
[hupso_hide]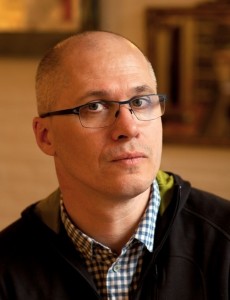 1992 – Young Yugoslavian journalist Aleksandar Hemon travels to the United States for a cultural exchange, months before Sarajevo, his native city, is under siege. In his own words, from the recent book, he "had no way of knowing that [he'd] return to [his] hometown only as an irreversibly displaced visitor"(107). In Chicago, he has to seek political asylum. "The rest is the rest of my life," writes Hemon (116). But perhaps more interesting here is the myth of the young Bosnian becoming an English-language writer. Hemon, so the myth goes, gave himself 5 years to be able to write prose in English. And he did it in 2.

2008 – After three successful collections of short stories (The Question of Bruno; Nowhere Man; Love and Obstacles), Hemon releases his first novel, The Lazarus Project, a finalist for the 2008 National Book Award and the National Book Critics Circle Award. The novel tries to reconstruct the story and journey of a young Eastern European Jew called Lazarus Averbuch shot in Chicago in 1908 by the city's chief of police. In the novel, a young Bosnian writer called Brik, accompanied by his friend-photographer-storyteller Rora, makes a restorative trip to Eastern Europe, ultimately ending up in Sarajevo. The novel combines Lazarus' story with the personal journey of Brik. The fiction has a real counterpart in a project by Hemon and photographer Velibor Božovic (which can now be viewed online), parts of which were used to illustrate the book.
2012 – By this time I have heard much about Hemon. I am in the US. I finally get the novel and read it. I discover that Lazarus Averbuch, Hemon's character, is from Chi?inau, the capital of Moldova, the city in which I spent most of my life. In the book, the character-writer Brik travels to Chi?inau, speaks with the local Jewish community, goes to the Jewish Cemetery etc., in an effort to imaginatively reconstitute Lazarus' life and the terror of the anti-semitic pogroms (assaults verging on massacres) which drove the young man away to America. In the process of writing the book, Hemon himself undertook the journey to Eastern Europe and implicitly to Moldova. I am somewhat critical of the descriptions and the interpretations of Chi?inau. As time goes by, I forget about these and only remember that the novel is good. Someone teases me: "Surely you like the novel, who else made Chi?inau part of big literature?" (too much to comment here). All in all, yes, this is merely a coincidence, but who doesn't pay attention to coincidences? Another, vaguer one: I am a young Eastern European in the US, sometimes I even try to write in English (myth under construction).
March, 29, 2013 – I am in New York and attend the presentation of Hemon's first book of nonfiction, The Book of My Lives, at the McNally Jackson bookstore. It is quite crowded. The crowd is very mixed and enthusiastic. I cannot see much, but listen to the discussion between Hemon and Colum McCann. I don't get a chance to acquire the book. Autographs, autographs, autographs.
September, 11, 2013 – I am in Berlin and attend a presentation and discussion on the same book in the context of Internationales Literaturfestival Berlin, at Haus der Berliner Festspiele. Here is another coincidence, one could exclaim. Yes, but this time I made the coincidence happen, it didn't just happen to me. It was as if life asked me "aren't there enough coincidences?" and I answered by doing this.
Perhaps in laying out these numbers and explaining them, my relation to literature may have come across as irrational, as, indeed, superstitious. After all, who goes to the same book launch twice, on two different continents?! There is, however, a more rational version of this whole story. First of all, this time, at the Festival, I did finally get the book. And, second, I have had the chance to engage in a very interesting comparative exercise between the event in New York, on the one hand, and the event in Berlin, on the other. Some revealing juxtapositions grew out of that, but I would rather keep the judgments for myself and let you, reader, make your own, from the observations below.