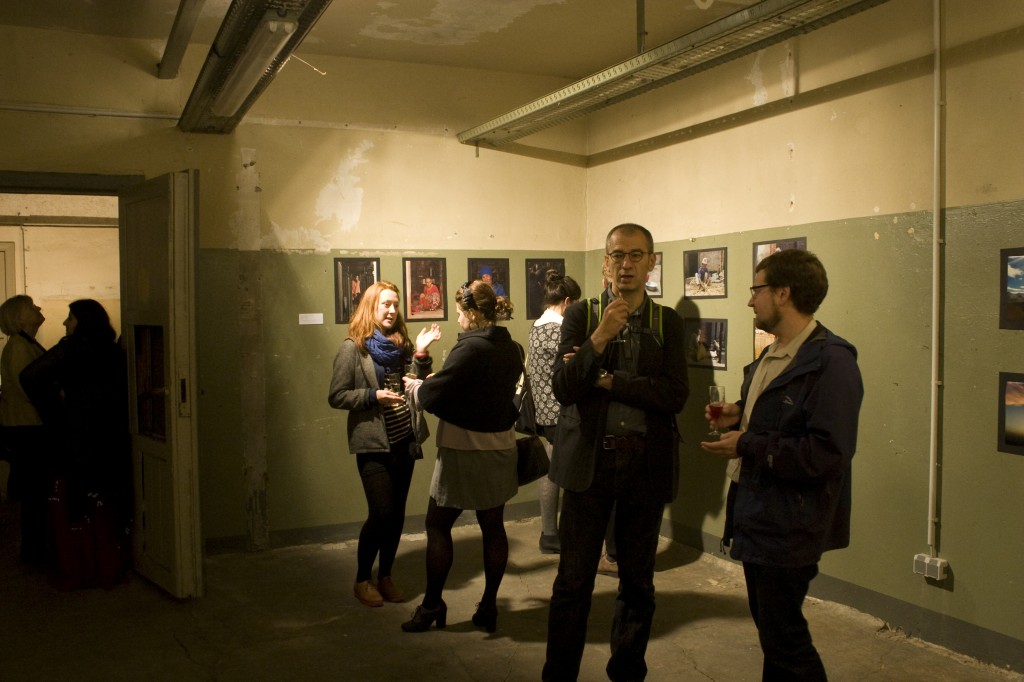 Wednesday September 25th was an important day for ECLA of Bard. The school hosted a small reception to inaugurate "the Factory," a place where, within the walls of one building, all students have the possibility to express themselves via various art practices. Formerly a can factory, the building complex has an interesting history, as it also used to be a tire factory at some point, then hosted an advertising company and the editorial office of a Berlin newspaper, produced by homeless people, and later even became a shelter for the homeless. ECLA acquired the premises three years ago and after several months of intensive renovation, coordinated by Lars Köhler, ECLA of Bard's Site Manager, the Factory is finally completely ready to host visual art and theatre classes, guest talks and student-organized exhibitions, installations, or performances.
"The idea, in keeping with the fluid interaction between performance and visual arts that we've always had at ECLA, was to try to create a studio building where the use of rooms could change from term to term, depending on what courses were being offered or what projects were being developed–rather than separating "art" rooms from "theater" rooms. We also wanted a renovation that would, in some sense, leave the building's history intact while allowing it to take on the marks of its current inhabitants. Something not too neat, in other words," says the Director of the Arts and Aesthetics Studio Component David Levine, who was one of the key figures in the process. He adds that the merit goes mostly to others, namely Thomas Norgaard and Peter Hajnal: "We always had a view towards expanding our offerings in the practicing arts (visual arts and theater), and Peter and Thomas thought the factory would be an ideal space in which to do that. Taun Toay, from Bard, was instrumental in getting the actual renovation going and overseeing the process, and he and I planned out how the factory would look and how we would use it."
For the inauguration, a small exhibition of artworks by current students and alumni was organized in the studios. Paintings, photos, short films, ceramics, collages, and installations alike were on display. The diversity of art genres represented was a good demonstration of the interdisciplinary character of ECLA of Bard's classes and the broad sense in which art disciplines can be understood. The exchange of ideas across artistic disciplines is also encouraged by the construction itself – all studios open out to each other.
The opening of the Factory was attended by ECLA of Bard's students, alumni, faculty and staff with their families, as well as neighbors from Pankow. The official opening started with a welcome speech by ECLA of Bard's Rector and Provost Thomas Rommel, who wished the studios a fruitful future and invited everyone to toast to the newly-opened building. The speech was followed by Pakistani music and dance performances in one of the studios on the ground floor. Maria Khan's dancing and Osman Chaudry's singing were amazing and were a good demonstration of how the studios can accommodate art practices of different kinds. As an example of what students produce at ECLA of Bard, there was a screening of the short film "A Day at ECLA of Bard" by former AY student Diana Pluti?, inspired by the film "Berlin, Symphony of a Great City" from 1927.
Although the weather was chilly, people mingled, talked to old acquaintances and strangers alike, and explored the exhibited artworks even long after all the chocolate mousse and little quiches were gone. It looks like ECLA of Bard's very own Factory is on to a good start.
Photo gallery:
Video: