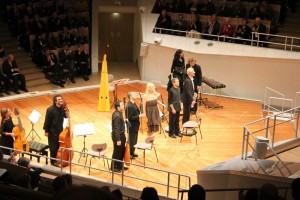 On a chilly November night, students and faculty members from ECLA attended a live musical performance by Magdalena Kozena. The performance turned out not only to be memorable and delightful, but also extremely enjoyable for people of all ages. As we entered the hall, we saw it brimming with people, all lovers of music and art.
And then suddenly, Magdalena Kozena stepped onto the stage barefoot, along with her ensemble. She found her place at one side of the stage and, like a Greek Goddess, began the baroque Musical concert. Her voice, commanding and divine, put a spell on the audience and took them on an hour and a half long musical journey.
Magdalena Kozena started her career as a dancer, but due to a slight foot injury she switched to learning Soprano music. As a young girl, she was spotted as a budding talent. Ever since then she has been performing classical music all over the world. On her recent visit to Europe, she performed at Philharmoniker Berlin, to promote the release of her latest album, "Lettere Amorose." The new album is based on the Baroque works of Fillipo Vitali, Giulio Caccini, and Gaspar Sanz.
During the Baroque period, from the 16th to the 18th century, the style of music in Europe changed from being complicated, abstract, and restricted to the elite class to bold and liberating.  Many people also argue that this had a great influence on the form and idea of love present in the literature, art, and poetry of the era.
The role of the concept of love in Baroque music was especially interesting for the ECLA audience as this concert which came after a lecture by Sarah Burges Watson, in which she mainly discussed the forms of love in Orphic literature.  The concert indeed proved itself to be a delight as it brought together the ideas studied In the lecture hall and the live music at Philharmoniker.
Many, however, sat through the concert completely ignorant to what the singer was singing, due to their difficulty in understanding either Italian or German. Yet, the music provided an opportunity for catharsis and brought peace to the soul.
What made the concert such a relaxing experience was the fact that it was arranged on a Monday night. The first day of the week can be extremely stressful, especially for students who have a rigorous and challenging week ahead of them.  What could be a better way to loosen up than to spend an evening with playful baroque love songs?