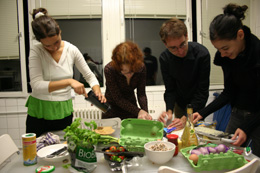 This year's International Dinner was unlike any other. It was based on the concept of a Progressive Dinner Party, where each stage of the meal is served by a different host and all the dinner guests have to physically move from one location to the next as the evening progresses. What a brilliant way of combining food experimentation, exercise (for better digestion) and a fair distribution of washing up duties!
The order of our evening was the following:
House 15 greeted us with Starters
House 24 had the honour of serving the Main Course(s)
House 16 had the pleasure of offering Desserts
…and all of this drawing from 17 different culinary cultures of the world!
The menu was a truly amazing mix worthy of a king. It included khachapuri (Georgian), pumpkin soup (German), cocktail sandwiches (a Romanian-Estonian variation on a Texan recipe), salads (Kazakh and Turkish), curry (Nepalese in two heat versions), talmes-balmes (Romanian), running eggs (Chinese), gado gado (Indonesian), milk rice pudding (German) and many more wonderful delicacies. Many of us soon realised that some dishes, such as for example baklava, span continents and national cuisines, while others were a brand new experience to many a palate.
Students have proven great organisation skills serving steaming hot dishes just as the merry crowd trickled from one house to the next. As for the "behind the scenes" experience, fifteen cooks chopping, kneading and stirring feverishly in one kitchen must have been an unforgettable sight. Luckily, on this occasion no broth was spoilt (or left over).
By Alicja Weikop