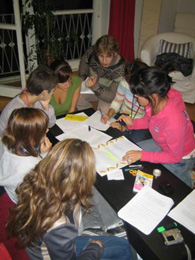 Knowing what to expect from the upcoming academic year at ECLA was probably the only thing missing from the students' suitcases when arriving on the 4th of October. Bearing this in mind, the Orientation Week (October, 4-8) came to their rescue, offering solutions to administrative problems, introducing students to each other, to the faculty, as well as to the city of Berlin. However, all that served only as the official aspect of their first days here at ECLA.
Behind the scenes, what the Orientation Week provided for had more to do with the setting up of a context, in which students began to relate, engage in creative team activities and discover common ground – and where there was none – creating it. A clear example of such an activity was the Scavenger Hunt held on Saturday, October 7, which in spite of not being compulsory turned out to be quite popular in House 24, where Alissa and Zsofie handed out the tasks.
Searching for clues is what students had been doing ever since arriving – clues on how to start a conversation, clues on getting to know each other. But somehow, with the Scavenger Hunt things were different. Tasks such as finding the Wasserturm, singing the national anthem in front on an embassy or even obtaining 7 restaurant menus that featured crispy duck were activities that required students to work together creatively, as extra points were granted for originality.
Suddenly, students that for the past few days had been taking language placement tests or picking up their books, all doing so individually – were now collaborating for a common agenda, as each of the three teams was formed of students living together in the same house. Scavenging implied finding ways to communicate ideas and organizing themselves in a city they hardly knew – which in a sense is exactly what the true scavenger hunt of the Orientation Week came down to.
Certainly there were arguments, little time and technical difficulties in recording completed tasks. Even more so, in the end not everyone won. Still, the Scavenger Hunt did serve its purpose – students had scavenged to know each other better.
By Clara Sigheti (AY 2007, Romania)