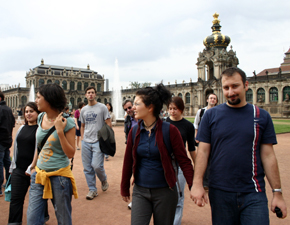 After a sleepless night of essay writing, we started the trip to Dresden with low expectations of what was going to be encountered. Despite its everlasting rain, Dresden quickly exceeded our expectations with its beautiful Baroque buildings, the famous Elbe, and its gorgeous night spectacle.
The first stop was Dresden's art treasure, the Zwinger. We walked there via Augustusstrasse where the fascinating Romanesque-Baroque court chapel (Hofkirche) tempted our senses. That was the first time I had ever seen such a splendid structure in my life. Back to the Zwinger, we started with the Old Masters Gallery. The Zwinger consists of the Old Masters Gallery (Gemäldegalerie Alter Meister), the Armory (Rüstkammer), the Porcelain Collection, the Mathematics and Physics Salon, the Natural History Museum (Naturhistorische Sammlungen), and the Museum of Mineralogy and Geology. In the Old Masters Gallery, we got the chance to look at Carregio, Titian (The Tribute Money), Giorgione (Sleeping Venus), Rembrandt, Dürer, van Eyck, and – maybe the most famous of all – Raphael's Sistine Madonna. Talking about the precious art works in the Old Masters Gallery's charming atmosphere and sharing time and opinions with different people were unforgettable experiences. The first day ended with a long walking tour through the city, crossing bridges with gorgeous night views and moonlight reflecting on the Elbe.  
The next day started with a visit to the Sculpture Collection (Skulpturensammlung), which was founded under Augustus the Strong as a collection of classics and modern works. Immediately after, we walked through the New Masters Gallery, breathing in Expressionism. We intended to visit the Frauenkirche next; unfortunately, we could not get inside because of the unbearably long entrance line. Since we were hungry, we decided to pass to Neustadt. Neustadt was totally different from Altstadt in terms of structure. If Altstadt can be thought of as a postcard, then Neustadt should be seen as a regular German town (especially with the rain!). On our return, the Green Vault (Grünes Gewölbe) diverted us from our way. In the Green Vault, all sorts of precious jewellery, silver, amber/ivory/cur stone, and Dresden Baroques were exhibited for curious eyes. Later when darkness fell on the city, our wine ceremony started after the discovery of the arts.
On our final morning, Dresden saw us off as it had welcomed us, with rain once again. We left the city by boat, travelling up the famous Elbe to the old town of Meissen. The narrow, old-fashioned streets led us to the top of the town where we visited the late Gothic Albrechtburg castle and cathedral. Meissen is also known for its wide vineyards, wine taverns, and its world-famous porcelain. Augustus the Strong founded the first European porcelain manufacture here in 1710. After a quick visit to the Porcelain Museum, it was time to head home. We came back to Berlin with lots of unforgettable memories.
 By Eser Bakdur (ISU 2006, Turkey)