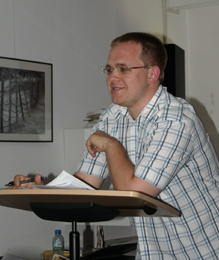 On Monday afternoon, members of the ISU faculty and ECLA alumnus Evgeny Morozov (PY 2006, Belarus) held a Special Seminar on 'Writing for the Public Sphere'. The four panelists shared their reasons for seeking writing opportunities outside of academia and described both the pleasures and frustrations of writing for the general public.
Theodor Paleologu is the Programme Director of ECLA's International Summer University and the Ambassador of Romania to Denmark and Iceland. Paleologu's background is in Philosophy and Political Studies and he has experience in both diplomatic writing and editorializing. His opinion pieces have appeared in Romanian newspapers and for him the 'great seduction' behind editorial writing is the immediate impact it can have on politics.
Alessandra Galizzi Kroege is an Art Historian who splits her time between Berlin and Milan. Her stories and interviews discuss current issues in German art and architecture and they appear regularly in the Italian art magazine, Il Giornale dell Arte. Kroege initially began writing for the public sphere because she found it to be a refreshing break from the tedious writing she usually does in academia. She appreciates the other perks to art writing as well such as behind-the-scene tours of new exhibitions and access to interesting people in the art world.
Melinda Harvey started writing book reviews while finishing her thesis in English Literature. She did it both as a personal challenge – could she write better reviews than the ones she frequently reads? – and out of frustration – would more than five people actually read her 80,000-word thesis. Her writing does reach a larger audience now that she contributes to publications such as the Sydney Morning Herald and the Australian Book Review.
Several of Morozov's editorials, concerning Belarusian and Russian politics, have appeared in the International Herald Tribune and the Globalist, an online magazine. He got his start three years ago writing a column on education and career planning for a free Russian weekly, Akzia. A year and half later, he started a column on international affairs for the same newspaper. Morozov has been writing about politics ever since and contributes regularly to several internet magazines while maintaining his own political blog. He enjoys the flexibility and freedom that comes with freelance writing.
All the panelists agreed that writing for the public sphere requires different skills and brings new frustrations. Whether it is book reviews or editorials that you want to write, both Harvey and Morozov recommended reading as much as possible in that particular genre to improve your style. There was a general consensus that adjusting to a non-academic audience is frustrating at times. Learning to express a point in language that a ninth-grader will understand and that a time-pressed business man won't misconstrue was a major challenge for all four panelists.