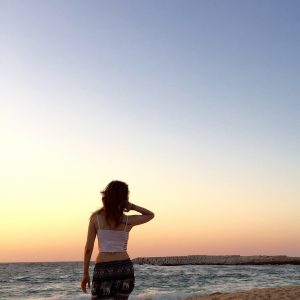 Watching the sun's last rays glisten on the waves of the Mediterranean as its burning flame anticipates being quenched by the Sea's cool water, I listen to Yasmine Hamdan's raspy Lebanese dialect as she sings of Sehnsucht and heartache (watch video here) . Whether it's a blessing or a curse, these are things I have long since experienced.
As the tip of a bottle teases my lips and the icy drink fools around with my tongue and taste buds, I catch myself subconsciously trying to translate the song's words and expressions into a language he would understand. Maybe I'll have him listen to it one day. But its artistic and musical value wouldn't be enough: he would want to understand the driving force behind the creation of this beauty.
The translation was a simple matter of finding the correct vocabulary, but that wasn't what I was listening for. The soul of the song dimmed with the setting of the sun. The more I tried to find ways to convey it in his tongue, the more the song's flame and passion became frail and shadow-like, until eventually the melody seemed only a ghost of what it was before I tried to capture it.
The song was lost and I brushed it off. Suddenly, I missed how he makes me feel like the goddess of that glistening golden sun embracing the Mediterranean. I remember this lurking uneasiness I had in the back of my head. A fear of loss. Loss of oneself, loss of language and identity in the process of merging cultures. But I'm starting to see now the malleability of one's identity and how it's constantly simply getting richer with the fusion of others'; it is all-consuming, like a sponge, or like the sea.