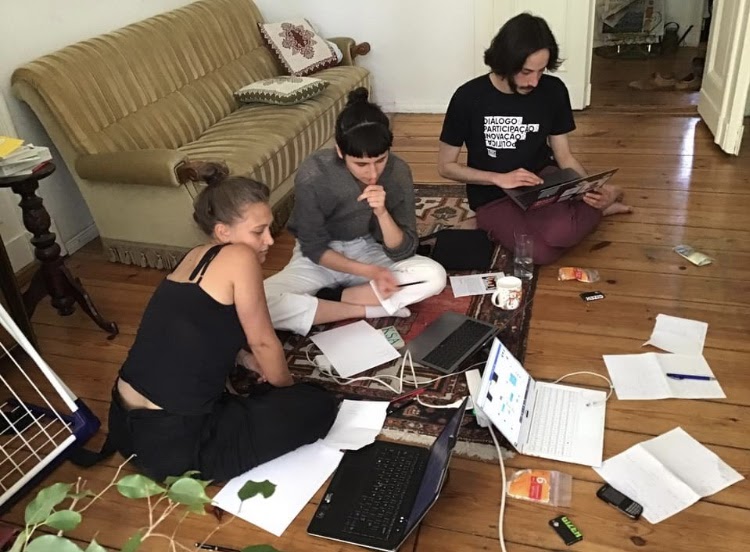 Entering into its fourth year of existence, the student-run arts festival Pankumenta is a longstanding tradition for Bard College Berlin students, alumni, and faculty alike. The annual festival has become a staple in the Spring semester for the university community and for young artists around Berlin, and it has grown in popularity with each passing year, something illustrated by its changing venues––in the year it was founded, Pankumenta was hosted in the apartment of one of the first team members; the year after it was hosted in the Bard College Berlin factory. After that, it was hosted in Two Yellow Chairs Cafe. In 2020 it was scheduled to be hosted at the largest venue of Pankumenta's career: Monopol, an artist residency space in Reinickendorf housed in an old distillery.
The stage was set, and when open calls for volunteers went out to the Bard College Berlin community, upwards of 35 students offered their services. Pankumenta founder Veronika Risnovska (BA 2020) toured the Monopol facilities, and showed pictures of the venue to all of the delighted team members. Pankumenta 2020, still months away, seemed set to be the largest and most ambitious version of itself yet.
As with all things this past year, nothing went to plan. It was March 11th, 2020 that a lockdown in Berlin was announced, and everything that had seemed so certain a week before was suddenly up in the air. The core members of the Pankumenta team met at Halifor bar in Prenzlauer Berg for one last beer and a grieving session for all of our hard work that it seemed would never come to fruition. But despite the sadness and the oppressive and claustrophobic feeling so ingrained in those first days of the COVID-19 pandemic, there was also a feeling of defiance. It was decided that night that there would still be a Pankumenta 2020, even if it did not look like what we had originally expected.
In the next few months, plans began to take shape and questions began to arise: would we move the festival online, or hold out hope that cases would go down with the coming of springtime? How would we work around restrictions to create a festival that felt substantive? How would we meet with case numbers rising and regulations coming into effect?
It was decided that we would hold the festival online, if only for our own certainty that we would not have to continually push deadlines and work around the uncertainty of whether people would be able to congregate en masse. A former flatmate of a Pankumenta team member was tapped to design the website.
Ultimately, travel restrictions and the shift online proved to have some benefits. When travel restrictions were first announced, two thirds of the volunteers for the original in-person festival left Berlin, leaving only the core team. With only about 10 members left, subcommittees were able to continue meeting in person in smaller groups, especially with the coming of warm weather. The shift online allowed works from all over the world to be exhibited in the festival without having to pay for shipping costs, and Pankumenta 2020 ended up exhibiting artwork from all over the world, from California to Kyrgyzstan.
Even as we found the hidden benefits of moving online, complications arose. The original coder for the website dropped the project on account of his having to work on a thesis. It was then decided that the remaining team members would make use of the web building program Hotglue to build the online festival––this too proved to be a blessing in disguise. With the team being directly involved in not only outreach and planning but also with the actual work of building the site, the team had full control over how our vision for the online festival would be implemented. With this, we were better able to rise to the challenge of how to create an online arts festival that felt substantive––one of our greatest fears for the online version of Pankumenta was that it would give off the same energy as a lockdown live stream that only garners 4 viewers, all of whom aren't really watching.
To address this concern, it was decided that the site would be designed in a nonlinear fashion. Rather than simply scrolling from top to bottom, online attendees would also scroll left to right to access different parts of the exhibition. Curators would separate accepted submissions into different "rooms" that could be accessed by clicking on different artworks on the mainpage. The result was our best attempt at creating a digital maze, our best attempt at emulating the experience of being inside of a museum.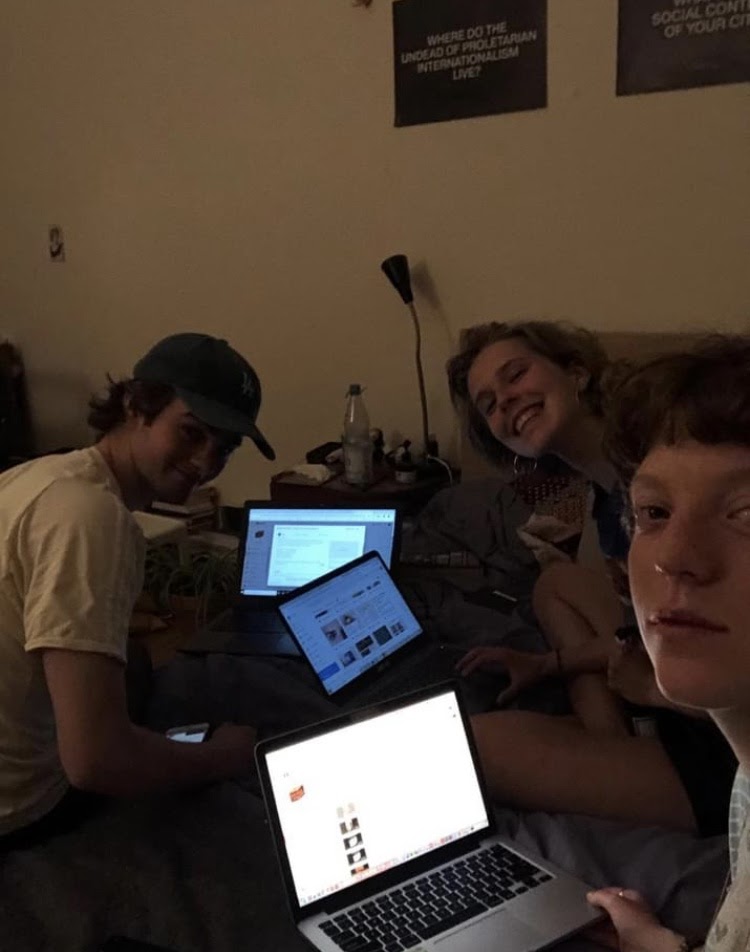 As with most things that are student run, the actual building of the website was procrastinated until what felt like the last minute. Two days before the launch of the festival website, the Pankumenta team came together in two different apartments to build the website together while still following COVID-19 restrictions. We came with snacks, lots of coffee, and everyone brought a computer. There was also a dog––Alfred––who kept the team company. Charging cords were strewn all over the floor as we began a process that would ultimately become an all-night ordeal.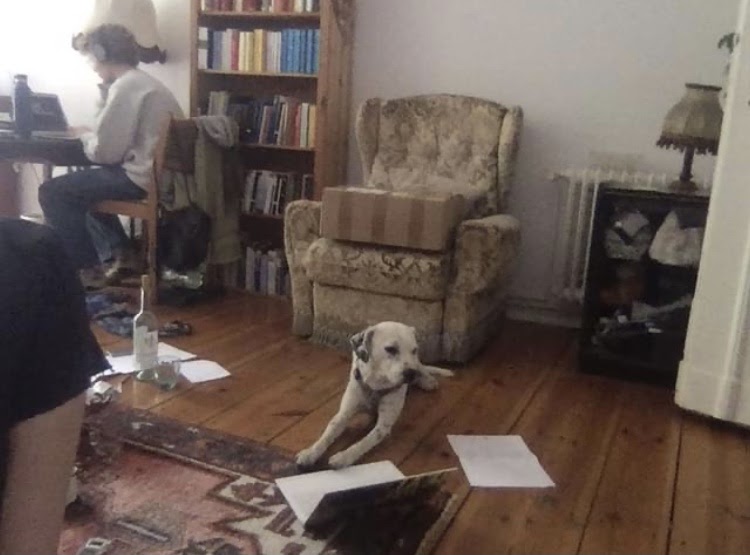 Working through the night paid off. The site was finished at 3:24 in the morning, and went live at 11:11AM the next morning. The day started with the first installment of a three part podcast series going live, featuring Bard College Berlin professor Aya Soika. Following events included an online performance by frequent Pankumenta collaborator Blitz Bereit, several instagram takeovers, and three drag shows, all of which were live streamed on Youtube.
The second day began with a virtual tour through the online exhibition space led by Bard College Berlin professor Geoff Lehman; a tour that has become a staple of Pankumenta. After this, followed the publication of the remaining two installments of the podcast series and three more online performances by Anya Demchenko, Biborka Beres, and Zhiwei Wu. The festival officially ended around 9PM on Sunday, May 24th, but everything can still be found online.
The Pankumenta team met again in August to debrief and discuss how we would continue to develop. It was decided that, despite the fact that a majority of the team had graduated from Bard College Berlin, Pankumenta and the community that had sprung from it would continue––albeit in a different form. We would rename ourselves PM; an acronym that was purposefully more ambiguous than the original title. We needed a break from what we had been and where we had come from in order to rethink what we could be, while also recognizing that we could not abandon the origin of the project altogether. PM would also expand beyond just an annual festival, and would include a pop-up series of events, the first of which you can find advertised here.
The Pankumenta 2020 Festival can still be found here: https://pankumenta.hotglue.me/
Exhibiting artists included Jake Nelson, Jessie Kao, Alva Guzzini, Anna Zakelj, Anika Krbetschek, Małgorzata Greszta, Coco Ma, Danny M. Dubner, Zelda Mazor-Freedman, Kateřina Kocourková, Weronika Zalewska, Annia Pedrol, Jekaterina Gaile, Paulína Pokryvková, Anaïs Ondet, Ruth Zakelj, Clare Murphy-Putnam, Vera Xia, 鹿男, Ronni Shalev, Billy Nemo, Rainer Turim, and Ryan Miller.
Exhibiting musicians included Bono Siebelink, Palm Pilot, Plato Forgets, and Sports and Culture.
The filmmakers exhibited were Aiden Berglund, Rocio Gauna, and Anastasia Lysogorova.
Please consider following Pankumenta/PM on Instagram and Facebook, as this is where open calls and updates will be published!