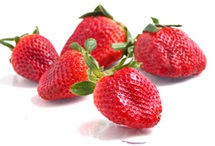 Last week ECLA's poetry lovers gathered once again in the Yellow House to enjoy each other's company, good verse and some strawberries. This Poetry Night was dedicated to spring and the many different emotions it brings – hope, despair, resolution, impatience and pure joy.
As usual, the readings were multilingual. Poems were read not only in English and German, but also in French, Russian and Portuguese. Every poem (except the English ones) was accompanied by a translation, one of which, from German, was devised on the spot by everyone present. The translations were as diverse as the poems themselves. Jacques Prévert's Pour faire le portrait d'un oiseau ("To Paint a Bird's Portrait"), a subtle parable about artistic creation, was read by Anca Rujoiu who alternated verses in French with their English counterparts. The two Darias inadvertently had chosen the same poet who happened to be a favorite of both and read the poem together. Daria Coscodan presented the Portuguese original of Quando Vier A Primavera by Fernando Pessoa and Daria Ghiu supplemented it with their own English translation.
Every Poetry Night has not been a mere recital, but a chance to learn about different literatures and cultures, and to learn new names and new words. This time the students found out about the tragic destiny of Russian symbolist Alexander Blok and about the four lives of Portuguese poet Fernando Pessoa, who used several heteronyms, and each of his "incarnations" possessed different temperaments, worldviews and styles. The most famous of these were Álvaro de Campos, Bernardo Soares, Ricardo Reis and Alberto Caeiro, who authored the poem read that night in the Yellow House.
The poetry enthusiasts compared different names for "lily of the valley" called "small tears" in Romanian, "May bells" in German and "love affair" in French, remembered how to play hop-scotch and practiced pronouncing "Eichhoernchen". They also tried (albeit unsuccessfully) to discover the modern rhythm in Daffodils by William Wordsworth which was recently made into a rap song. This poem, dealing with memories and images so powerful that one can take them away and resurrect them again and again before one's eyes, is the best poetic description of the last Poetry Night at ECLA.
By Natalia Ryabchikova ('07, Russia)