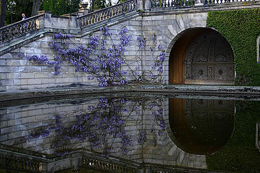 Last weekend a small but enthusiastic group of ECLA students got off at Potsdam Hauptbahnhof planning to spend a sunny day visiting the town's parks and palaces. Some of them had already visited Potsdam during the winter and were astonished by the changes brought about by spring. At this time of the year Potsdam is exuberant with flowers, arranged on beds and climbing the walls. Parks hide little ponds of forget-me-nots and lilies of the valley.
The valiant explorers mixed with numerous tourists admiring simple lines of Schloss Sanssouci, the German rival of Versailles, built for Frederick the Great. They marveled at its magnificent terraces where grapes and fig trees grow inside glass cabinets. Wandering through the parks they discovered Orangerieschloss, constructed in the style of the Italian Renaissance, imitating Villa Medici and the Uffizi. Neues Palais is considered to be the last great Prussian baroque palace, with four hundred sandstone statues and figures on its façade. They couldn't ignore the magnificent Belvedere auf dem Klausberg that was only restored in 1990 after spending decades in ruins.
The town is busy providing adequate support for several of UNESCO World Heritage Sites. The Alter Markt excavations are ongoing at the place of Potsdam's historical center. Archeologists are trying to find traces of the old Stadtschloß built in the 17th century, damaged during WWII and demolished in 1961. Horse-drawn carriages transport visitors from one palace to another. A picturesque windmill spins as it has been for many years. A man in period clothes and a velvet beret sings opera arias in the city streets. However, the strangest and most memorable sight, is a stuffed rhinoceros, suspended on straps and slightly swaying to and fro in front of the local Brandenburger Tor.
By Natalia Ryabchikova (2007, Russia)