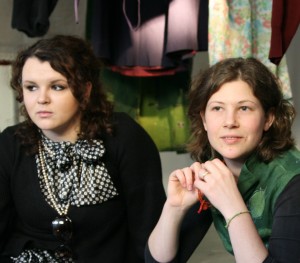 The Annual Conference 2010 came to an end on Friday, February 12th, in a very elegant way as the ECLA community gathered at Wilhelm-Wolff-Str. 43 to share a poetry evening.  Students, Faculty and Guests enjoyed a variety of cheeses, fruits and wines.
The evening commenced at 19.30, and quite a few of the attendees decided to share a special poem with the crowd spoken first in their mother tongue and followed in English translation. Writers from all over the world filled the air with their words. Julio Cortázar and Jorge Luis Borges were the Argentinean voices of the night; Ingmar Heyze represented the Dutch poets; David Hayes translated Sappho; Joseph Brodsky was the Russian poet of the evening; Anisa read "Dastoor", by the revolutionary Pakistani poet Habib Jalib; Cristina read quite a number of poems by the Romanian poet Marin Sorescu.
More often than not, the translations were made by the students themselves. Emily, a student from the UK, highlighted how important it was to hear the poem in its original language, since even though one didn't know the words, the audience could still hear the tonal intimations of the verse through its foreign sounds. The value of translation was given in the fact that the poetic verse had a diverse meaning for everyone in the room. It was remarkable how each poem conveyed a different manner of writing, and in this way provided a window to a foreign culture.
Around ten at night, students and faculty started their way back home, satiated by the warm feeling of cheese, wine, and an evening of shared verse.
by María Cruz (AY '10, Argentina)