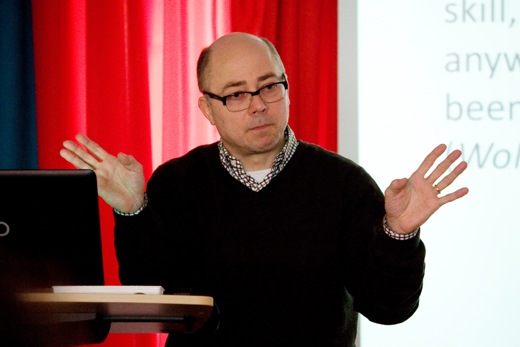 The influence of literature on popular discourse, and more surprisingly, the dependence that a society has on this discourse, came to light in a January 31st lecture by Professor Thomas Rommel of Jacobs University.
During the 18th Century Britain became a primary site for the intensifying relationship between political and cultural concerns. Eventually these concerns became popular themes depicted in literary works.
Thomas Rommel began his lecture discussing the literary references used in coverage of policy issues in The Economist to show how the relationship is still prominent today. These references served to orient the audience in how best to interpret and understand contemporary problems in a society.
18th Century Britain in particular saw the development of the novel as a response to, and new ways to engage with, the political and cultural arguments that were taking place in clubs and coffeehouses at the time, and in an increasing number of publications such as magazines and newspapers.
But what were the ideas actually discussed in publications like The Spectator and other literary forms that drew from or defined the political, economic, and social concerns and struggles of that society?
Rommel showed how the debates around some major contemporary philosophical issues, such as the role of self-interest and sympathy as articulated by Hobbes and Locke, pervaded the public discourse. A very complex and enjoyable literary expression of these debates is, so Rommel, Bernard Mandeville's Fable of the Bees, a narrative poem first published in 1705, which used the analogy of bees and hives to portray the lives of corrupt but successful individuals who helped maintain a structure of society where the wealth of the rich relies on the work of the poor.
The moment the bees consider living more justly they become poor, and society less stable. The poem deals with fundamental economic principles such as the division of labor, which would be presented in recognizable terms by Adam Smith seventy years later.
When Smith wrote The Wealth of Nations there existed no separate discipline of economics, and themes of his work were of concern not only to individuals and institutions dealing with financial policies, but also to the literary and philosophical circles. Smith, in a similar way to Mandeville, was interested in the possibility that self-interest and sympathy toward others may not be opposed to each other in a better society, but rather complementary.
The aristocratic culture of 18th Century Britain saw the development of a public sphere which shared a democratic concern for the policies and practices of their society, and this communication drew from and contributed to that culture's literature. The juxtaposition of Smith and Mandeville is an exemplary depiction of this.
 by Michael David Harris (AY'12, USA)