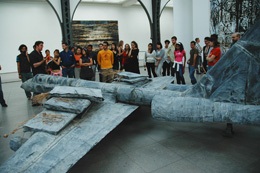 …said Joseph Beuys. If this statement is applied to Anselm Kiefer's works and the Schmerz exhibition, then the image of the human being is one of pain and desperation. That is the immediate conclusion that one can draw after Wednesday's visit to the Hamburger Bahnhof , Berlin's Museum for Contemporary Art.
But things are not as simple as they seem. After a brief historical introduction about the building itself, students made their way into the museum. The first item they laid their eyes upon was a biting stick used in operations without anesthesia. "Oh my God" was the exclamation expressing the state of shock that gripped some of us.
The shock wore off and a more rational, analytical discussion took place in the main hall as everyone was trying to make sense of the symbolism in the collages and lead sculptures by Kiefer. "It is impossible to write poetry after Auschwitz" (Theodor Adorno) is reflected in Kiefer's approach to visual arts: his work does not come across as a natural form of expression, but as a grueling process of juxtaposition, as a painful and thoughtful rendition of people's suffering. Slashes, stabs, sorrow, and solitude are key words of his art. Cremation and death, extermination and apocalypse also come to mind when examining, for instance, Hoffmann von Fallersleben auf Helgoland. Helgoland was the site of the greatest non-nuclear detonation in history, an event referred to as the "British Bang". A battered submarine, smoke and fire, wood barely hanging on and metal sticking out confirm the idea of annihilation.
Then, it was time for Schmerz. Suitably named sections – "Compassion", "Placebo", "Melancholia" or "Ecstasy" revealed distinct yet equally fascinating dimensions of pain. Manipulative statistics quantifying Christ's Passion in the enumeration of inflicted wounds, bear tugs or slaps. People's pity and empathy when faced with the tragedy of another. Harrowing images of operations where unconscious patients do not experience autonomous pain. Jars with brains, bones and guts as diseased elements that provoke suffering. Francis Bacon's triptych, a work of twisting, turning, convulsing, disintegrating bodies – his personal view on the Crucifixion. Nietzsche's death mask – pain immortalized in bronze.
Those were just a few of the exhibition's highlights. Perhaps the most interesting section was that which detailed the connection between pain and ecstasy, the former being a means of achieving the latter. Walking the thin line between pain and pleasure can have devastating consequences – death, among other things; in a quest for the most extreme of sensations, man abandons every notion of physical integrity and surrenders to his darkest desires. Also, pain signifies testing the limits of the human condition: the more pain one can tolerate, the closer one comes to victory. Clips of athletes confirmed this statement: boxers endure rounds after rounds of fists or runners hang on for the last meter of the ten thousand they must conquer. Therefore, pain appears as a necessary evil, as an unavoidable obstacle on the road to glory and excellence.
It is hard to word the feelings and thoughts that this exhibition triggers. For Bas Voorwinde (ISU 2007, Netherlands), Schmerz was "not grand, but more of a philosophical inquiry", not so much about art, but more about raising questions. On a more humorous note, Melinda Harvey, a member of the faculty, said that "It was fun to watch someone like David (Director of the ISU) playing the Pain Station". But mind you, he was not alone in this endeavour: people had a great time of inflicting electric shocks – of low tension, of course, on each other. Another essential aspect was also underlined by Melinda: most of the books we read for this programme deal with pleasure and pain so this exhibition shed new light on the texts and allowed people to get a broader picture.
"Art is not just there to be understood" said the same Joseph Beuys. Art is there to be felt and experienced to the fullest. Even if it is painful to do so.
By Catalina Iorga (ISU 2007, Romania)