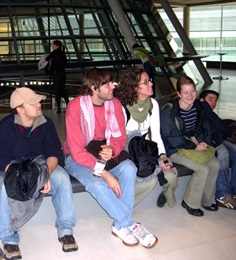 Although only in their second month at ECLA, some students have already seen more of Berlin than the locals, due in part to the "Seeing Berlin" programme that was introduced this academic year. Art historian Aya Soika is coordinating the programme, which exposes students to the cultural and historical aspects of Berlin through regular events. The semester began with two different walking tours through the city center. Tomaž Cebašek covered much ground and history as he led students pass a remaining section of the Berlin Wall on Bernauer Street to Kunsthaus Tacheles to the final resting spots of Hegel, Fichte and Brecht in Dorotheenstadt Cemetery, eventually finishing the tour at Brandenburger Tor. Soika's tour, which began at Gendarmenmarkt and ended outside Schinkel's Altes Museum on Museuminsel, took in much of the architecture along Unter den Linden and certain memorials including Käthe Kollwitz's Mother and her Dead Son inside the Neue Wache.
As the days in Berlin have grown shorter and colder, "Seeing Berlin" excursions have moved indoors. Many students opted to wake up early on a recent Saturday morning for a private tour of the Reichstag Art Collection. While waiting for the tour to begin, students asked their Russian-speaking peers to translate the graffiti-covered walls, defaced by Soviet occupation troops in 1945. The tour guide later explained the controversy behind the graffiti that was rediscovered during the building's renovation in 1995. The group saw installations by artists Jenny Holzers and Christian Boltanski as well as the new Reichstag eagle, designed by Norman Foster. Although students came for the art collection, they learned more about the building's history and architecture including unique design features that make it environmentally responsible. The tour ended in the Reichstag's Plenary Hall at which point the group was allowed to cut the line forming in the rain outside for a view of Berlin from Foster's famous dome.
The "Seeing Berlin" programme continues in December with museum visits to Berlin's contemporary art museum, Hamburger Bahnhof, the Film Museum on Potsdamer Platz and the temporary Picasso exhibition at the Neue Nationalgalerie.