The days of April 27-28 were "spectacular" in many ways on the Bard College Berlin campus. Beautiful spring weather brought excitement in the air, while the community teemed with anticipation for the first performances of the theatre plays prepared by our recently founded Performing Arts Club! Two plays written and directed by Madison Christ (Begin in Berlin, USA), Pain has an Element of Blank and Spectacular!, premiered on Sunday in our Factory building, which hosts most of the artistic events on campus.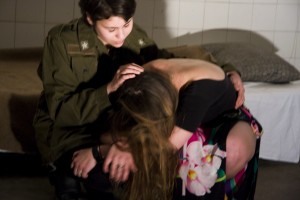 After two months of diligent and fun rehearsals, Madison's one-act shows finally saw the light of day and succeeded in keeping that light shine throughout the night. Pain Has an Element of Blank was the first show to premiere. It is an experimental performance that follows the effects of serious traumas (such as repression and anxiety) as they impact on the lives of four characters that are both four parts of a family and of one mind. Dealing with kindred topics, but in a different way, Spectacular! follows the relationship between Lily and Colene, two girls in their late teens. As Colene recounts their adventures to her psychiatrist, her memories and dreams blur the line between reality and the subconscious.
Both plays featured our very own students, whose excellent performances swept the audience off their feet. We'd like to thank all of them for their hard work and for bringing theatre closer to our "Pankow home" in such a creative, innovative and adept way!