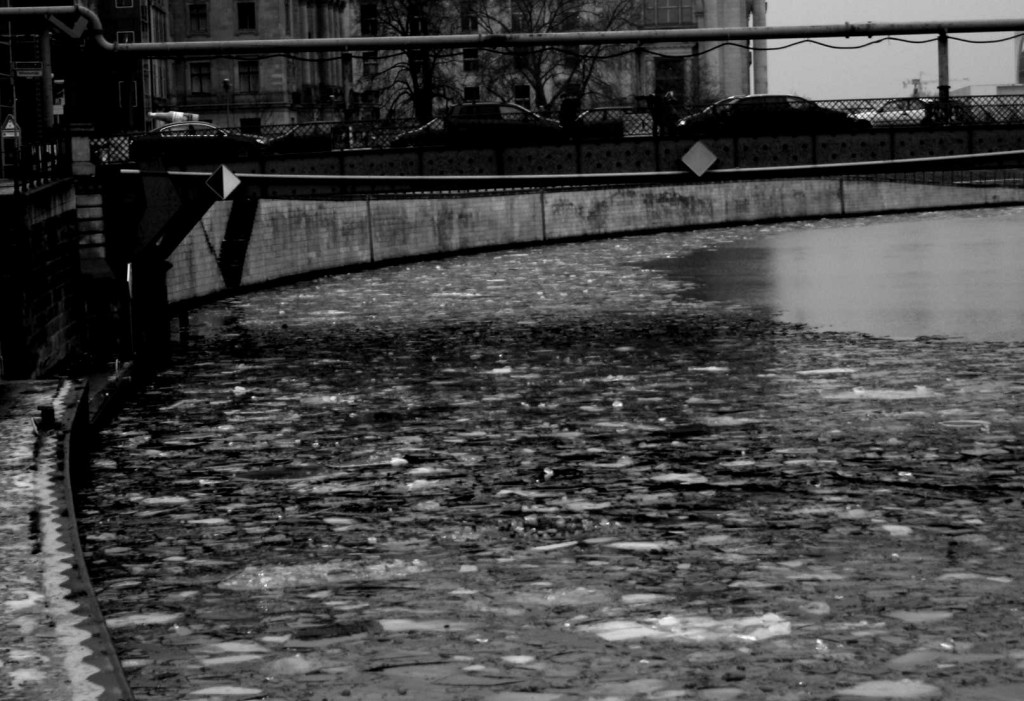 The weekend of February 21-22 we assisted in the process of making a few shades of light and darkness appear on photographic paper by means of chemicals and equipment until then unknown to us. Lorena Baric (AY, Serbia) had been preparing a photography workshop for a long time, and it came to fruition just as we were still contemplating the last monochrome days in Pankow. Passionate about photography, but also tired of its digitalization, she decided to make use of the darkroom and technical equipment with which the 'installations house' (Platanenstr. 98) is endowed; Lorena invited photographer Joe Dilworth to hold a black-and-white photography workshop, which gave twenty of her colleagues a taste of the entire process in just two days.
Saturday we gathered in the artiest building of the college and got acquainted with Joe and his cameras. It is no coincidence that he was asked to teach us some of his skills; browsing through his portfolio indicates the preference for a type of aesthetic highlighted best by film photography: decrepit architecture in Berlin, landscapes and city-scenes in Eastern Europe, and a lot of portraiture. One can also recognize snapshots from Bauerntheater, a 2007 performance of ECLA professor and artist David Levine, a good friend of Joe Dilworth's.  Since 1987, Joe has been working as a freelance photographer, collaborating with a range of music magazines and record companies and immortalizing some of the most popular bands and performers. A very telling example would be his photographs of Nick Cave and the Bad Seeds, previously on show at The Arts Centre in Melbourne, Victoria.
Joe instructed us step-by-step on how to work with single-lens reflex (SLR) cameras, from loading film to setting the aperture and focus, and even brought his Nikon FM and a Leica M2 35mm for us to use. As part of Lorena's student project, ECLA bought two other charming SLRs, to be used in our future artistic endeavours. We strolled around in groups, each eager to capture the most interesting nook in the surrounding area. "One has to be familiar with the process to know what to look for when taking a photograph, to be thinking of the print when looking through the viewfinder. And that can only be learnt by experience, taking an image all the way from exposure to print", he told us. In speaking of his own experience as a collaborator for The Times and the preference for film cameras as a means to give more weight to in-studio shooting sessions, he made reference to the great photographer Ansel Adams saying "the negative is the score, while the print the performance!"
On Sunday we developed the film we had used the previous day, cut the negatives, and went through the entire procedure, from making test strips to making final prints and putting these into the dryer. A point of constant concern for everybody was not to expose the fibre-based multigrade paper to any ray of light. The darkroom has its regulatory requirements and fitting a large group of curious people in it was only just short of chaos. For each photograph making a test strip with different exposure times is critical, so that one sees and chooses the best contrast. After this decision, the image in the enlarger is imprinted on the sensitive paper, which goes into a bath of mild acid solution for a minute and a half, followed by immersion in alkaline solution and lastly, in the fixing bath. Undisputedly, care is paramount as these should not be mixed; accidents don't only ruin the picture, but can damage important equipment as well. Fortunately, Joe guided everybody through the process in a manner that led to no destruction, nor to any broken egos, despite the fact that this was his first teaching experience.  We all got to try our hand at developing, and now some have their black and white photographs to prove it.
Joe Dilworth is a Berlin-based Londoner with academic background in the fine arts. He finished his foundation year at St. Martin's School of Art, London and obtained his BA in fine arts at Goldsmith College, University of London in 1987. A freelance photographer, he shows some of his works at the Ben Lowe gallery in London, and we hope to see them soon also in Berlin.
By Brindusa Birhala ('09, Romania)