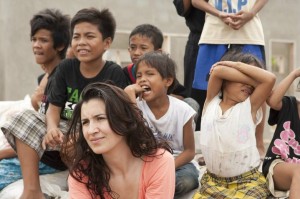 Alina Floroiu was busy doing her project year at ECLA when she got selected for a fellowship in the Philippines sponsored by Dekeyser and Friends. On November 10, 2010 Alina delivered the first of a series of international evenings where she gave a presentation about her six-month stay in Cebu as she learned and labored to build a village where poor families from dumpsites could relocate and start new lives.
In a community where more than 25 countries are represented, sharing one's cultural experiences is a given. However, it is still strange to actually hear someone else, a foreigner, tell stories of your obscure motherland to an actual audience. Thankfully, I got the opportunity to sit down with Alina one afternoon and talk to her in more detail about her fellowship in the Philippines.
I had reservations about the trend of voluntourism— which, according to Time, "sends travelers around the globe for a mix of volunteer work and sightseeing"[1] — and its increasing presence in my country, so I wanted to listen to Alina's views on the matter and how she sees her fellowship in comparison to volunteer travels.
Her response was both honest and relevant to today's youth. Alina said that fellowship is rooted on "the assumption that there's a gap between the younger generation and the older one. The people with professional experience and the foundation [Dekeyser and Friends] feel that there needs to be some sort of mediation."
The foundation, with the slogan "Be Inspired," purposefully creates projects for the personal development of its chosen fellows, bringing them together from different backgrounds to gain valuable knowledge from mentors who have spent decades working toward improving lives.
Alina has always been motivated by a commitment to volunteer projects, and the Cebu program seemed to be a perfect fit for her.
"It had the learning component, which for me was very important in anything that I choose to do, the development part—building a house that I always wanted to do, and also just the description of the program was very reassuring," Also, she continued, "It spoke of building relationships and friendships with the Filipinos and working with the community."
In the six months, Alina taught children in a makeshift classroom that stood right atop a mountain of garbage, whereby the slightest waft of air brings in noxious odors best left unimagined. She spent the nights with foster families in remote hillside towns with little to no running water or electricity, planted papaya plants, and carried building materials on her back up and down a mountainside.
She had to endure the heat and humidity of the tropics and witnessed firsthand the absolute poverty in my country and its seedy consequences. By the end of the fellowship, a village center stood at rural Compostela, signifying hope for many families who had spent most of their lives in a dumpsite.
After all that hard work and then flying right back to Berlin for her last term in ECLA, Alina has barely had the time to decompress and mull over the past months. Still, she believes that her most significant gain from her volunteer stint is cultural awareness.
"There was an incredible amount of cultural sensitivity that we had to learn and to take in incredibly fast. There were so many cultures that I wouldn't say clashed but interacted in a very hyper way … I've learned to really see how much cultural background plays in to what a person decides to do, and I'm curious about that now. I see it more in my interactions at ECLA now."
Traversing cultural lines is part and parcel of studying at ECLA, and Alina considers her fellowship as both an application and a natural extension of the intellectual work she has done at ECLA.
The afternoon wound down, and the interview ended. I walked along Kuckhoffstrasse feeling quite pensive. Here was someone who talked the talk and walked the walk—not some touch-and-go charity excursion but a real immersion in the culture I was born into and grew up with. And after having seen the worst of the living conditions in my country, she still came out of the experience with more optimism than I ever had in recent years. Meanwhile, I have just become part of the great number of Filipinos who have left the country.
I recalled Alina's impression of Filipinos: "the Pinoys always, always find a reason to smile. More than a simple coping strategy, smiles are like the national currency."
Here I was, at one of the world's cultural and intellectual capitals, and suddenly, the prospect of going back and sharing what I learn just became much sweeter.
Perhaps, that is how inspiration works.
[1]www.time.com/time/magazine/article/0,9171,1647457,00.html
by April Matias (1st year BA, Philippines)