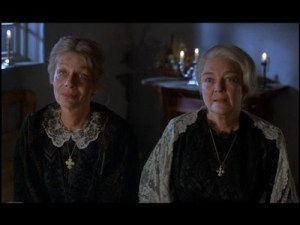 A life without love, devotion to a person or a profession, and a life without delicious food and drink is a cold and gloomy one. The lives of Martina and Philippa, two sisters in Babette's Feast, are cold and gloomy. During the week dedicated to the Annual Conference, ECLA students, faculty, as well as our guests, were treated to one of the most subtly disturbing films that I have seen in a long time.
While the film is definitely worthy of seeing, the story of Babette's Feast is depressing, and it is depressing precisely because it pretends to be otherwise. It is meant to be cute, hopeful, and ultimately a merry little film that induces warm and fuzzy feelings and makes our lives warm and fuzzy as well.
The film follows the lives of two sisters who are born to a charismatic but nevertheless controlling minister in a desolate and secluded 19th century town, located on the Jutland coast of Denmark. After the father passes away, the strict and pious sisters continue to lead their father's little congregation and cook for the town's miserable elderly folk.
Furthermore, they continue to reject an individual life. For them, singing—despite one of the sister's gift of a powerful voice—is time wasted, and romance taken to be just as useless. Both sisters are gorgeous and desired by many men some of whom even come to town and attend church liturgy just to steal a glance at these two profound beauties. But not even a charismatic military officer or a famous French opera singer succeeds in luring the sisters away from 'their' world and into another. Instead of love and fame, sisters devote themselves to God and to their small town and its peoples.
The lives of the sisters, as well as the lives of the people in the small town are dark and depressing—that is, until Babette, a mysterious French friend of a friend, barges in and injects the sisters and the village with a minute dose of vigor.  She spices up their porridges, flirts with the local store owner, and finally spends her lottery winnings on a feast for all. The feast helps the town's people enjoy themselves for at least one evening, but at the same time it serves as a reminder to them and to the viewer of all of their other grey and cheerless nights.
The film does present the viewer with the ascetic gloom, self-sacrifice, and discarded ambitions during the first part of the film, but it disproportionately allocates its second part to a one night feast that serves as a comic portrayal of the essentially terrified and lonely souls. The town peoples' God-fearing austerity, lack of knowledge about anything outside of their community, and their excessive distress for allowing such a big deviation in their never-changing diet, hurls them into a state of paranoia in which they perceive Babette's unusual cuisine as the sinful work of wizardry.
And while the town's peoples' collective anxiety and excessive prayers for God's intervention and guidance to help them remain unaltered after the consumption of Babette's odd potions induced pity in me, it caused many chuckles and laughter at what must have been perceived as old folk's cute and irrational beliefs and their overall silliness.
The theme of old folk "cuteness" and "silliness" dominates the feast scene. The town folk's amazement and later joy over the imported goods—fine wines, a gigantic turtle, and roasted birds to mention a few—is manipulated to provide a subtly uncomfortable comic relief. Watching the "silly" and "cute" old people anxiously and tentatively approach the strange looking meals induced in me the same kinds of feelings I felt when I observed my grandmother try and fail to read my second grade geography book. And while my uncle thought that Baba's failed attempt to read such a simple text was worthy of stomach clutching, knee slapping laughter, I was very surprised and disturbed.
Similarly, watching the town's folk guzzle the wine and food and failing to understand the military officer's proper dinner talk was a combination of "silly" and "cute", but sad and slightly disturbing as well. The silliest moment of them all and the apex of my unsettling emotions during the film happened in the scene when Lorens Löwenhielm, a prominent and handsome and now old and retired cavalry officer approaches Martina.
After 35 years of absence, he returns and whispers to her that she has been with him throughout these three and a half decades. But one could claim that Babette's Feast is not a movie about repressed Puritan girls regretting their lost opportunities at love and more importantly an individual life. However, Babette's Feast is disturbing not because it doesn't include a happy love story or an assertion of one's autonomy and will, but it is disturbing because it turns Martina and Philippa's harsh reality into "warm," "fuzzy," "silly," and "cute."
The townsfolk in Babette's Feast are goodhearted, sad, brainwashed, paranoid folk whose reality deserves pity and tears as much as the comments: "this movie made me happy," or "it gave me hope," or the most disturbing of all "it was so cute," comments I overheard far too often as the ECLA community exited the theatre. In the discussion following the film, only Professor Matthias Hurst noticed that the candle and the candle light held by one of the town's people at the end of the film was blown out by the wind, perhaps suggesting their return to the bleakness of the reality.
After a few hours of joy and amazement, celebration of love and friendships, and a few "Hallelujahs," townsfolk returned to reality, their cold and lonely existence and we returned to ECLA. Happiness and joy was felt, but it was felt only for a few hours, the amount of time that is not enough to transform lonely and sad lives into warm and fuzzy ones.
by Milan Djurasovic (AY '11, USA)