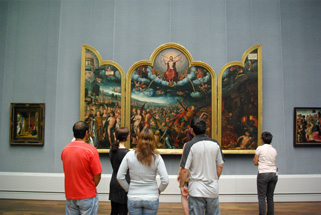 Sunday 3 August 2008: the most beautiful weather in Berlin and ECLA students just can't get enough food for thought. Art historian Aya Soika gave ISU 2008 students a tour of the Gemäldegalerie focusing on the week's themes: religion, violence, martyrdom.
Situated in the Kulturforum, west of Potsdamer Platz, the Gemäldegalerie hosts two kilometers of masterpieces from the likes of Dürer, Giotto, Rubens, Botticelli, van Eyck, Bruegel, Raphael, Tizian, Caravaggio, or Rembrandt. With close to 1500 works, the gallery takes its visitors on a journey spanning five centuries (from the 13th to the 18th) and most of Western Europe, a journey on which ISU students gladly embarked.
A visual analysis crash course took students through religious paintings from the 13th to the 17th century. Elements of technique, size, space, color and content stirred students' curiosity and led to interesting debates both inside and outside themuseum. The group was asked to reflect on and compare the depictions of Saint Sebastian by Botticelli and Rubens or to interpret Giotto's "The Burial of Mary". Students of law, business, political science, history or philosophy – all touched by Aya's Socratic, ad-hoc lectures – became amateur art historians contextualizing, criticizing and pondering on the artworks proposed for discussion.   
This event was the fourth in the "Culture Crawl" organized by ECLA for the ISU 2008 students and followed others such as a revealing tour of Berlin, an intriguing visit to the Deutsches Historisches Museum and a relaxing Potsdam trip. After challenging lectures, seminars and screenings, one would assume that students would take advantage of the sunny day and roam the streets of the German capital. Yet, long after the tour was over, some could still be seen closely examining the great paintings of the Gemäldegalerie; without a doubt, a secondary effect of the ECLA condition, a contagious disease that manifests itself mainly through an unquenchable thirst for knowledge and spontaneous outbursts of enlightened commentary.
By Alin Ivascu (ISU '08, Romania)