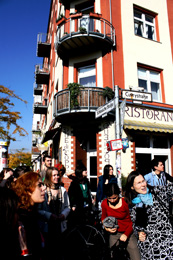 October 11th and 12th, better known as 'the Berlin weekend', were the days when the new students eager to explore the heart of Germany  had the chance to feel the pulse of a city '…condemned forever to becoming and never being.'
The programme offered something for everyone: we all got the opportunity to peak into those parts of the city which intrigued us most. Professor Geoff Lehman offered a walk to advocates of the esthetic values of architecture in Schöneberg and Charlottenburg. On the other hand, students interested in seeing the other kind of many cultural sides of Berlin were led by art historian Aya Soika through Kreuzberg, a conglomerate of diverse nationalities and a utopia for supporters of the alternative art and lifestyle.
Yet, this was only the morning of October 11th. The lovely weather advanced throughout the whole day and thus largely contributed to the creation of a perfect atmosphere for the Indian summer walk through the Tiergarten Park in the afternoon. Then again, another group of students decided to enjoy the artistic side of Berlin by going on a tour to a gallery in Mitte, where they had a chance to have a look at rather captivating installations by different artists.
Reflections of the day were shared during dinner, when the whole ECLA group was reunited. This served as a starting point for the second part of the day: a group who was eager to absorb as much as possible from Berlin culture had the opportunity to see Prokofiev's opera "Die Drei Orangen" at the Komische Oper, whereas another group went a step further, introducing their own culture by reading poems from their countries at the poetry night held in David Hayes' apartment. The day ended with the welcoming party organised by the students for the students, faculty and administration at Kuckhoff 24.
Sunday, October 12th, started with a relaxing walk in Prenzlauer Berg, regarded as one of the most attractive neighborhoods in Berlin, with cafes, pubs, restaurants and galleries adding to its overall relaxing aura. Another option was to visit the Mauermuseum, one of the museums in Berlin that attracts a vast number of visitors every year, and also to have a look at a traditional Sunday flea market in Mauerpark.
The afternoon was oriented towards 'team-building' activities: the students of ECLA were divided into two groups and rowing on the Dragon Boat, giving the best of them to defeat the opponent. However, it was not victory that mattered; it was the fun and the excitement, since some of us experienced rowing for the first time. Moreover, the sight of the fellow-students dressed in blue and yellow raincoats completed the amusing circumstances in which the Dragon Boat race took place.
Yes, Berlin is the place for the adventure-seekers and the free minded, for those who strive to understand life, to feel change and to discover the unknown. The Berlin weekend was an extensive introduction to what will probably turn into a thorough, year-long exploration of the secrets of one of the most alluring and European metropolis, which built its fame upon the contrasting, yet complementing nature of its parts. As Jean Paul, a famous German writer, said: "Berlin ist mehr ein Weltteil als eine Stadt" ("Berlin is rather a part of the world than a city") (Jean Paul, writer, 1800)
By Elena Volkanovska (2009, Macedonia)