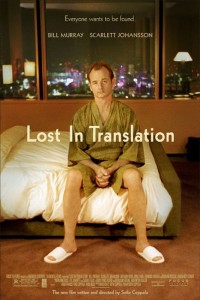 On Tuesday night, two days into the week of the Annual Conference, ECLA students, faculty, and visiting lecturers went to a private theater to watch the Sofia Coppola film "Lost in Translation." The film touched upon issues of translation and disconnection in the relationship between two Americans visiting Japan.
After the screening, faculty member David Hayes led a group discussion of the film. The discussion ranged from consideration of the meaning of the film, the relationship of the two characters, and the problems of translation both between and within cultures. Various theories were presented and critiqued concerning the relevance of the film to the overall 2010 Annual Conference theme of "the translator."
The discussion permitted a consideration of the problems of translation that exist not only between different languages but between people who share the same language. The discussion was friendly, often humorous, but also not without theoretical heft. The conversation went on so long the group was almost late for dinner.
Dinner was another adventure in translation at the Voland Café, a traditional Russian restaurant. Food and drink orders took place in Russian, German, and English, as the waiters rushed from table to table. Soon enough, everyone had a steaming bowl of Borscht and a glass of wine or beer in front of them. Here at last, after a long day of lectures, seminars, and a film screening, all the problems of translation dissolved into the universal langue of a good meal.