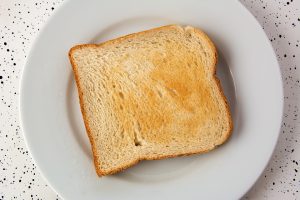 My mother never eats toast on a plate,
she holds the bread in her long hands
and eats over the kitchen sink.
I think these are the moments she prefers, looking
out to the garden, morning sun dim and blue and made of all the forgiving in the world
easier here in morning's two-part periphery.
I usually eat toast from a plate.
The butter cooling in the corners like little gold palms. I am glad for that luxury
but this morning I bring the toast to
my mouth, abandon porcelain