Walking down Pankow parks at dawn, you'll see cats, dogs and squirrels playing and running and walking. Some of the dogs and cats you'll see, also walk, run and play around the green grass next to W15 and K24 and T25; the student residence halls. They belong to some members of the BCB community. They are service animals.
Service, slash support, animals, are allowed on campus under the approval of the DEI office with relevant documentation. According to the student handbook. Once accepted, how do these incredible creatures fare on in our campus community? Quite well apparently.
So: Welcome to the amazing life of dogs and cats of Bard College Berlin! Some of them have done award worthy humanitarian deeds, some are climate change activists, some prime-show actors, some social media influencers, and some are studious scholars, somehow.
Matilda and Rosemary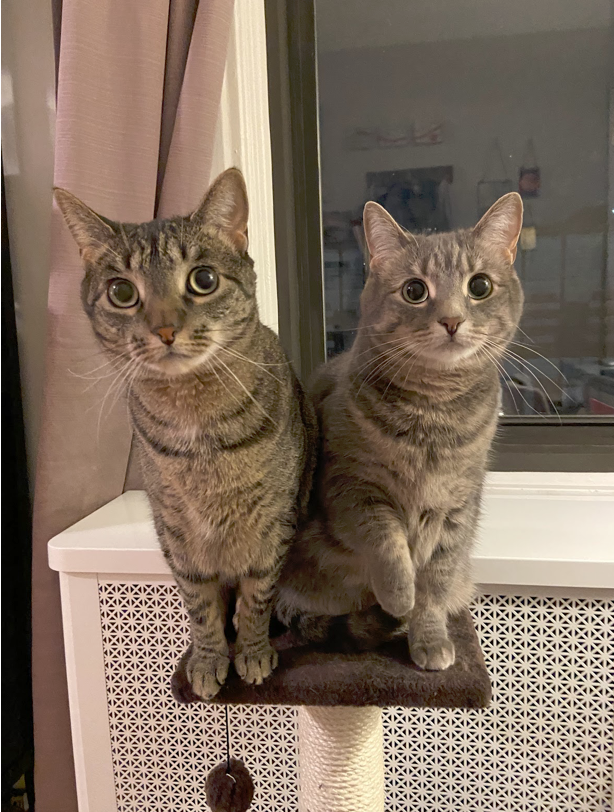 Big bird video fans, Tilly and Rosie are rescues from the Upper East Side of Manhattan. ''Though they've been able to live in some of the best places: NYC, the Bay Area, Berlin,'' their moms, the cat-aholic Anderson-Longs, say that Tilly and Rosie would prefer to never travel again. Rosie and Tilly prefer to keep a low profile, they're very strict when it comes to Datenschutz, so they don't have any social media accounts. From the look of things, it seems as if they like their dream food as they like their dream partner—a hotdog. "We're single," Rosie and Tilly say, " and are not really willing to mingle.''
Rosemary
AKA Rosie, Ro, Rosie Bear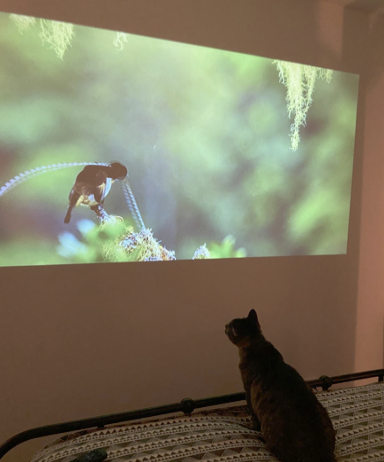 Born on 10 June 2017—a Gemini in every way—I'm a five year old kitty. I love watching bird videos on the projector—my favorite is Dancing with the Birds on Netflix. I also love watching BCB students play football in the field next to the garden. When I'm not pretending to hunt the birds in trees, I jump on top of one of our doors and walk to its edge. FYI, I'm excellent at tightrope walking, so jumping doors, jumping anything, is my forte. I, unfortunately, have so many allergies! I'm allergic to all foods except duck and eggs and for that reason I'm on a very specific diet.
I hate doctors, our doctors, the 'vets,' or whatever fancy title you wanna give them. More than one of them has called me "spicy"—whatever that means. I hate them!
I love partying. Everyday, around 3am, I wake up, have a snack, sprint through the house, jump on the bed, and find it impurr-ssible not to SCREAM.
Matilda (AKA Tilly, Tillamook, Mooks)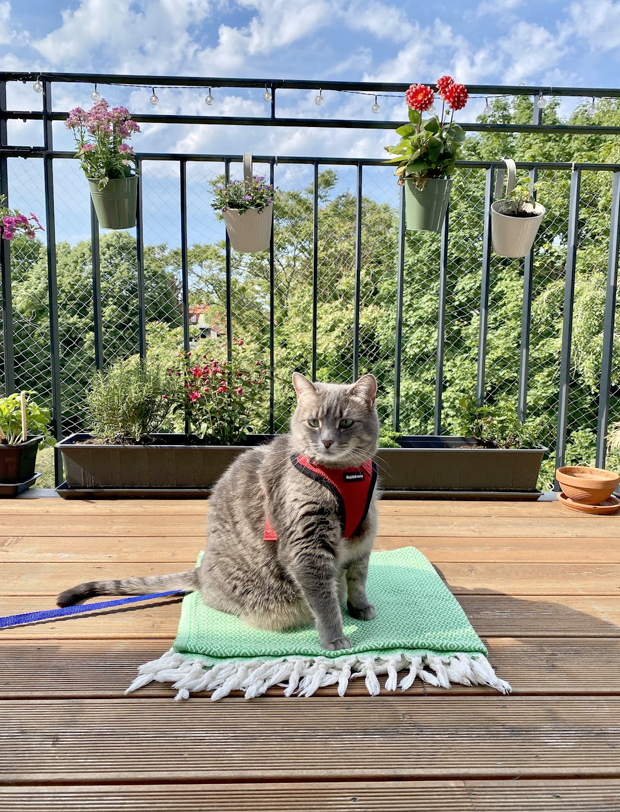 Tilly is my name, seven years old, my age. I was born on May 15 2015, a Taurus, just like my moms.
I, like Rosie, like watching bird videos.
I, unlike Rosie, prefer watching my videos on a phone.
Like Rosie, I can jump really high in the air. I used to jump on top of the kitchen cabinets when we lived in California.
In winter, I love heated floors.
On a normal day, I enjoy being the grumpy Balkon cat peering down at students.
I think you think I think I'm the best kitty in the willy wide world, which I'm sure I am.
I love crunching on anything plastic, jumping in cardboard boxes, and sitting on your lap on a pillow. I hate seeing a suitcase because it means my moms are leaving and my moms leaving makes me so sad 😞, and when I'm so sad I'm even more grumpy and when I'm even more grumpy…
Gus – (he/him)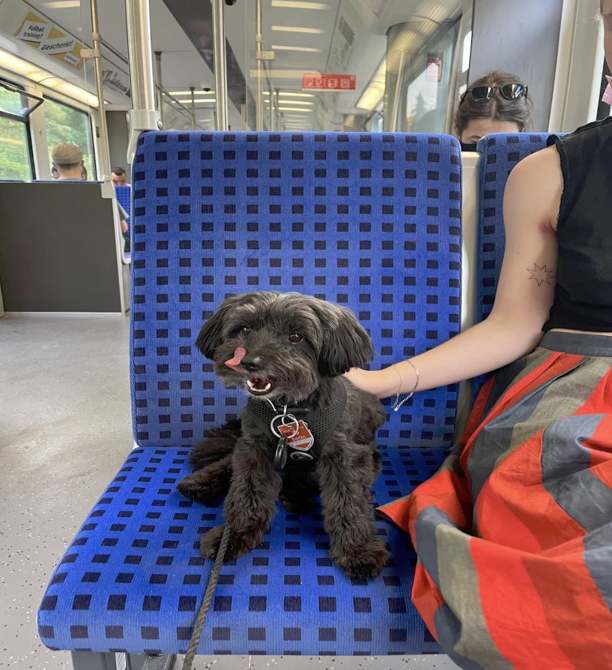 I'm Gus. Three years old. A rescue. From the L.A streets. Single. Looking to mingle. Literally a party animal, so I don't like it when my mom, Bindi, goes partying, leaving me behind, alone and lonely.
My favorite TV show is Fleabag.
I love BCB, it's a place where I'm always getting attention and I love being popular and meeting new people. Also, I love playing chase in Pankow parks. I like the freedom of quiet parks, and Pankow is not as loud as the city.
I have an EU passport and I'm currently trying to fill those pages as fast as possible.
I'm a climate change activist. I, like Monet and JMW Turner centuries ago, am concerned about air pollution. I take my job very seriously and fear for all of our futures.
I like my spot by the window where I can feel the breeze, have the afternoon sun warm me up, and watch people and dogs and cats walking in the park.
Atticus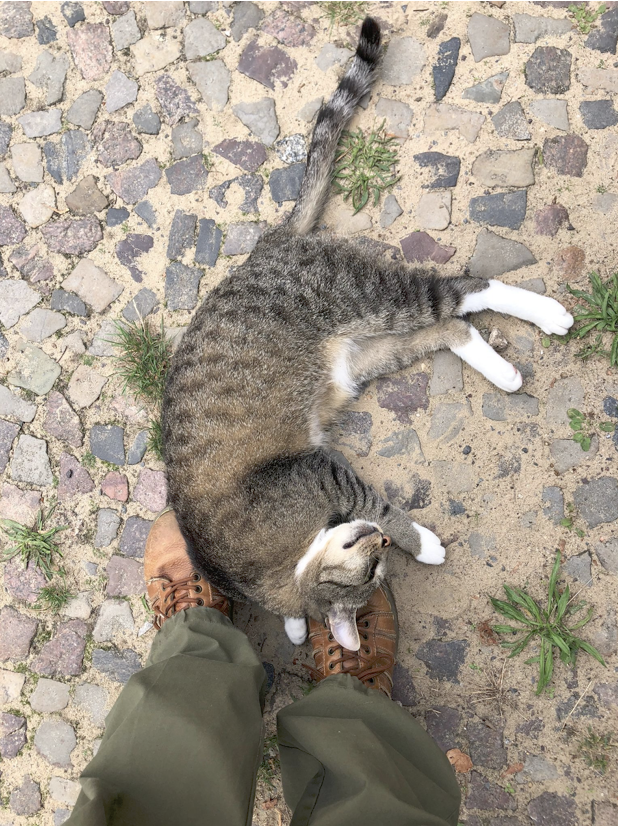 I'm Atticus, I'm mysterious. I'm not sure about my age. Somewhere along the years I stopped keeping track. I could be ten or eleven or a teenager. Funny how probably being a teen means I'm an old man now. And old I am indeed, in the last year, I've become sleepier, sloppier, but still quite lively.
I'm technically female, but Flora and Zoë didn't figure this out early enough, and when they did they were too attached to my assumed identity. Thus, I remain a he/him/his kitty. And it just makes sense.
As I've mentioned earlier, I'm affiliated with Zoë and Flora. We met a while back during Zoë's first year at BCB. Zoe and Flora were walking from Rewe when I jumped out of a garden on Kuckhoffstraße and introduced myself. "Hi, I'm a cat with no name," I said. "But you can call me Atticus if you'd like."
I hate dogs. One day over the summer, a puppy came up to me "out of curiosity," Zoe tried to convince me. I didn't have the time to figure out what the dog was "curious" about. I ran up a tree. Lemme put it this way, curiosity is like cat smallpox. Suffice it to say, Zoë spent a good hour trying to coax me down.
I like being at BCB because I think being in the presence of so many college kids missing their own pets probably does me a lot of good. Zoë says, "Pankow would not be the same without me."
I agree.
Iris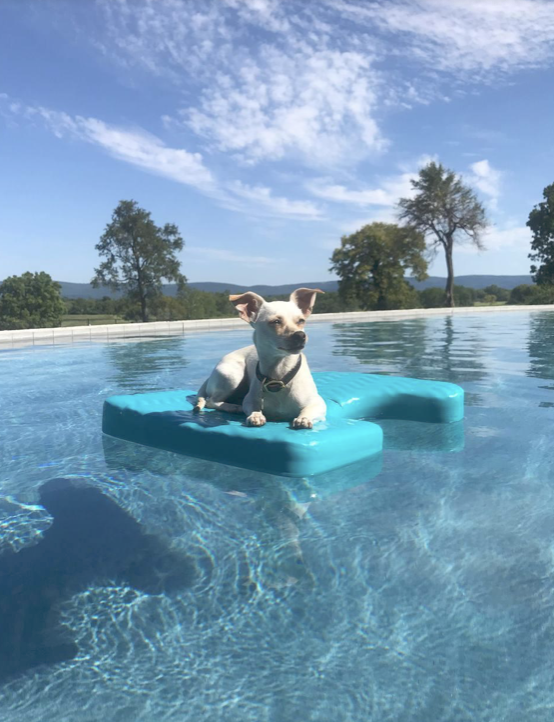 Iris is my name, but you can call me, I;I. I am a five year old, perfectly middle-aged lady. A country gal, originally from West Virginia.
I'm a simple lady. My favorite meal is bread and no water.
For health reasons, unlike Gus, I'm all for climate change, so anything to make the world hotter and less cold I'm fully for. In fact my favorite place in the house is anywhere in a hot bed in a hot climate.
I hate when it's cold and rainy.
I like seeing other dogs and cats waddling around campus. It's fun. They're cool. Really, really cool.
I'm single, looking to mingle, but full disclosure, I'm a feminist so you know the drill, I'm allergic to men. I have a talent at alerting people, especially Blythe—in a way she calls 'rather rude'—that people are outside my room. I don't think I'm rude, I simply ask: who, who, who's there?
When I'm not busy doing that or feeling sad and missing my sweet sister Juno, I'm busy asking myself very important philosophical questions: for instance, what would be an optimal good use of Microsoft's chatGPT or Google's Bard (what a name!)
My ideal life would be something along the lines of reading Virginia Woolf or Jane Austen or Simone Weil or Simone de Beauvoir; and eating apple pie or pumpkin pie or chicken pot pie; and drinking chianti or whisky or rum. Very nice, very nice.
Iris's mum, Blythe, says Iris is very mad she's in Germany. To which Iris blithely barks, ''mad is an understatement, I'm petrified to be in Germany!''
Hope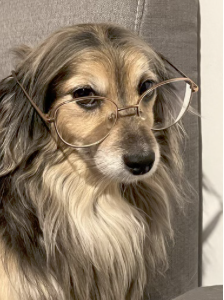 I'm conveniently named Hope, because I bring optimism to all around me. Unlike many of my ilk featured here, mostly adoptees from shelters, I do the adopting. I adopted my mom Ritta, and before that, I adopted my previous mum, and such was the cycle. How did I meet Ritta? Well, through a friend of her friend and that friend had another friend who had—you can gather the prequel. Anyhow, I'm six years old, originally from Syria, emotionally from heaven, and professionally a humanitarian.
While back in Syria, I adopted a three-week-old homeless cat during covid. We ended up being really close, and the cat even thought I was her mother. I nursed her and shared food with her (I practically stole the food from Ritta's apartment but let's not tell Ritta that). Also, although my favorite meal is chicken, I once adopted a lonely chicken I found shivering in Damascus.
Looks can be deceiving: contrary to what my wearing glasses might imply, I hate books.
I love playing outside at midnight. I enjoy playing in parks, especially Treptower Park. I also love watching National Geographic, although I'm scared of chimps.
I agree with Iris, Berlin, especially in winter, is the worst. I've pretty much had seasonal depression each day for the past four months.
Ginto
Call me GINTO, that is, the abbreviation for GinTonic. I'm a nine-year-old dachshund. A certified lover boy and therapist. Passed my qualifying exams with flying colors—I got an A for Adorable ✨.
My best quality is being there for students when they're sad, or grieving, or just having a bad day. For many, my presence brings calm and warmth. If you're ever sad, in need of mental health support, please feel free to drop by during my office hours.
I like playing football and doing tricks.
I'm a celebrity dog. I've appeared on television and in the newspapers several times. On television, I've featured on the well-known—and well liked—show Dog Cat Mouse on VOX. I've also immortalized myself in newspapers, appearing in ARD, among others. I've also won the largest dachshund race in Berlin Lichtenrade in the premier class, first place.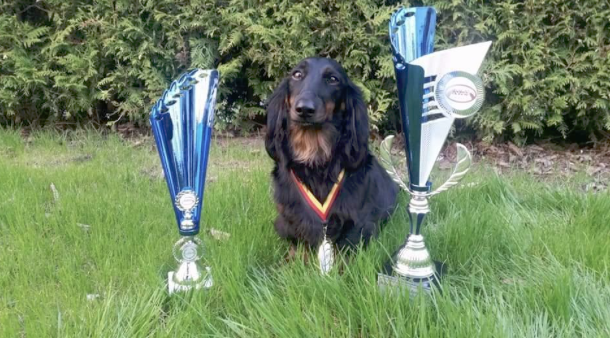 I know it goes without saying, but just putting it out there, I'm neither vegetarian nor vegan. A proud K-9, I hunt deer, rabbits, squirrels, and wild boar, for breakfast, lunch and dinner. I love cheese, meatballs, and sausages. On occasion, I'm on the lion diet: salt, water, meat; salty meat and water; salty water and meat.
I'd rather chew a bone made of glass than swim in a lake, and I hate puppies.
My mother, Monique, and I, love exploring nature. We travel a lot by bike and explore long distances around our home. We also go on vacation together. Often we drive to Rügen on the North Sea. Or we travel by train through Bremen, Karlsruhe, or Dortmund. My dream is to fly Virgin across the Atlantic to the Labrador Sea. I wanna go there to salve— more like solve—my triple b problem: born, bred, and bound to Germany.Follow for follow on IG @ Ginto und co and on Facebook @ Ginto-Amor aus der Fischerhütte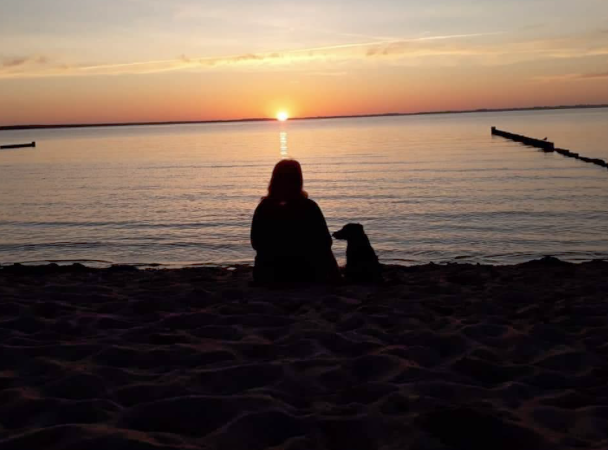 Coda: BCB is endowed with these friendly felines and canines. And aren't they just lovely? Their rictus smiles. Their exciting narration about their escapades each week-night, each week-day, each week-end. So next time you come across any of them, say hello. They won't scratch, won't bite, won't bark, they've promised.