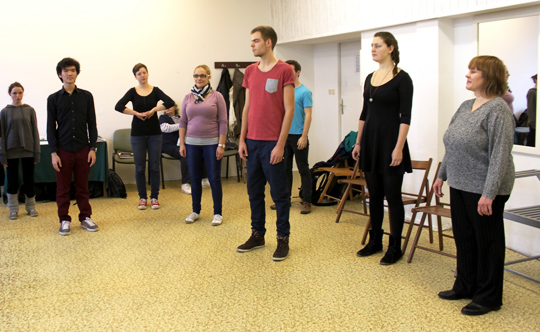 On the 10th of November, the ECLA of Bard Choir performed at Theaterhaus Berlin Mitte (THBM), which just celebrated its 20th anniversary. For the past two decades, Theaterhaus has been an affordable rehearsal and educational space for all kinds of artists. This time, the creative venue in the city centre covered four floors of more than 100 various performances prepared by local theatre, vocal, dance and other art groups, with free admission. Visitors received brochures with numerous events listed, and, rushing from one room to another, tried to experience them all.
The ECLA of Bard Choir in its present form started rehearsing together in the first weeks of September. Current and former students gather in the ECLA of Bard Musical Residence on a weekly basis to sing gospels, spirituals, jazz-warm-ups and classical pieces.
The choir director, Yvonne Frazier, has been a member of the THBM for 7 years, so we were invited to become a part of the celebration. Our performance consisted of two melodic sets of 20 minutes each, and an hour-long workshop entitled "So You Think You Can't Sing?". Through the workshop we intended to show that actually anyone who can speak is able to sing. One just needs to emphasize the vowels and practice correct breathing and body posture. The challenging title of the workshop attracted guests of different ages and interests, all of whom could hardly fit in the small classroom.
After a short body warm-up, we sang our traditional vocal exercises… which now sounded much more solid while performed by more than 30 people! Among them were both visitors from outside and actual performers at the Theaterhaus. Some participants confessed that they had only tried to sing in the shower but never considered their attempts serious. It was a surprising twist when the large group of untrained people became acquainted with our vocal pieces incredibly quickly, even though some of them couldn't actually read notes! Children and elderly people, young guys and teenage girls, people of different nationalities and backgrounds which we saw for the first time – this motley group merged with our team so harmonically that in 20-30 minutes we could already sing canons together.
While the workshop was easy and relaxing, the first vocal performance was a bit tense. Although the audience was quite friendly and the atmosphere in general seemed welcoming, I felt even more responsible when I noticed familiar faces in the audience–like the ECLA of Bard Professor Geoff Lehman, who attended one of our performances! Surely we could not disappoint him!
Since we usually sing without piano accompaniment, we could only rely on our voices, which this time sounded quite powerful and energetic even with the most challenging songs. We sang a Belorussian folk song "Kupalinka," the Swing-Quodlibet "Dudabda," spirituals like "Somebody's Knocking At Your Door" and "Rock My Soul," and traditional canons like "Dona Nobis" and "Halleluja." For both performances, the ECLA of Bard Ensemble Hobby Singers received great feedback and even got an invitation for an "open mic" event in Kreuzberg, which can be another step in our artistic growth and development.
Photos: Valerie Pochko