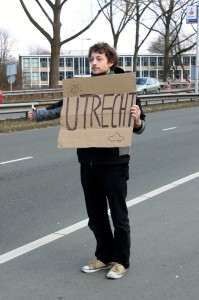 Rome, Paris, Barcelona, Prague… A 10-day spring break in the beginning of April gave ECLA of Bard students the time to explore the nearby European capitals. I could only sigh as I jealously observed some of my friends booking tickets and checking the attractions: due to my lack of advanced planning and some outstanding tasks, I was supposed to stay in Berlin during the break and look at the April snowfall through the library window, accompanied by cups of tea, German books and romantic TV series on laptop. These decadent plans went awry due to a random message from a distant online friend, who suggested participating in a hitchhiking competition to Marburg. Within ten minutes I was already seeking out my backpack in the depths of the wardrobe, painting Easter eggs and getting ready to seriously hit the road.
How can you compete in hitchhiking?
The Easter-Hitchhiking-Days I was invited to were organized by the HitchhikingHub – an international hitchhiking community created on a voluntary basis in 2008. Since then it has transformed into a bigger community, with regular events and a charitable component (the annual long race helps raise funds for water sanitation projects). Every year the rules for short and long races change: previously, the participants had to hitchhike in funny costumes or make the longest possible round trip in 60 hours. Since the race I was invited to was dedicated to Easter, participants and teams were supposed to start with an apple and an egg, and later try to trade them for something weird/ridiculous/funny from the drivers they had a ride with. My teammate Lars and I decided to complicate the journey and go to Marburg through… Amsterdam. According to the rules, we were not supposed to use public transportation or pay for the rides, though travelling for free in Germany (the European country with the biggest carpooling infrastructure – Mitfahrgelegenheit) first seemed impossible. In any case, there was no way to back off: the challenge had been accepted and our previous years' experiences instilled hope that this time around the trip would also be successful.
Day 1. Berlin-Amsterdam, Friday Night Battle of Party Capitals
On early Good Friday morning, when decent German Protestants fill their car trunks with presents and head off to their relatives, we were already standing next to a petrol station at Nikolassee with fellow hitchhikers. The weather had ignored the advent of spring and kept strewing us with sleet. Experienced hitchhikers checked the registration plates of approaching cars for a possible point of destination, and, if the direction was suitable, ran up to the drivers and started explaining their intentions in German and with strong gesticulation. 20 minutes and two cups of coffee later, a green Citroen Berlingo stopped and an elderly gray-haired lady agreed to give us a short ride. During my travels before, I was mostly given rides by middle-aged couples or young single people, so this lady's level of trust overwhelmed me – it was as if my own grandmother agreed to pick up a couple of strange guys at the petrol station.  Immediately upon arrival to our first destination – another petrol station – the next car took us: this time it was a German woman in a black Mercedes. Both drivers only spoke German, so while my mate was carrying on a polite conversation, I was staring at the endless fields out the window and remembering my previous hitchhiking experience in Eastern Europe. It is sad to admit it, but the worst treatment I experienced was in my native Ukraine, where drivers always asked for money, treating us as potential thieves and making indecent proposals. Sometimes the culture of the entire nation can be best understood through ordinary people met on the road and their attitude to you as a person they encounter for the first and last time in their life.
After the first two trips, the results of our object trade were homemade waffles and a gardening tool. We stopped at a checkpoint not far from Hannover, where the team who arrived first could get a Joker – a mysterious object which could probably be useful for trade or just cheer us up. We were thus astonished to discover that Joker was actually a popular German hitchhiker who was supposed to travel with us anywhere we planned. Hitchhiking with three people obviously made our trip harder, yet also much funnier in terms of shared stories and conversations during the breaks.
The rest of our trip was facilitated by two Polish cars and, as I am a self-proclaimed Polish specialist (I can understand and speak some random phrases using my Russian/Ukrainian skills), I was meant to entertain the drivers this time. We got to Amsterdam at around 20.00 on Friday night, and managed to have a quick tour of the city center, including: almost being killed by a tram and a bike, visiting the Red Light District filled with British tourists in T-shirts, smelling the scent of coffee shops and walking along the channels. Comparing Amsterdam and Berlin as two party capitals, I came to the conclusion that Berliners manage to organize better parties overall. For some reason it made me feel proud of Berlin, which I currently consider as a home town.
Day 2. Rocky Road to Marburg
While friendly and open-minded on a Friday night, Dutchmen turned out to be not that complaisant on Saturday morning, while traveling on the highway for the Easter weekend. It seemed like most of the families had just decided to move their entire flats – every second car had bikes on the roof, inflatable boats, or trailers with furniture and animals. In our case, short-distance lifts alternated with failures, petrol stations merged into one hazy picture, our frozen faces refused to smile to the drivers, coffee and biscuits replaced breakfast, lunch and dinner. After about seven car rides, we had three hours before the meeting and almost 400 km left until Marburg. I was seriously thinking about going to a train station and withdrawing from the race, when we noticed a car with two Russians heading to Sinn – a town located about 50 km from Marburg. After half an hour of charming conversation and delightful depictions of our point of destination, these adventurous drivers decisively changed the coordinates on the navigator and developed the highest possible speed. It's hard to believe, but our car stopped next to the bar we were supposed to gather at two minutes after the announced meeting time. The following evening was full of stories about sleeping in gas stations, hitching with a young mother and her newborn baby, and meeting a truck driver who has five families with kids in five different cities.  Probably you are interested what the winners of the competition traded the apple and the egg for, and then brought to the party? The community supported with unanimous applause two girls who brought… the driver.
We spent Easter Sunday in Marburg – the Alma Mater of the Grimm brothers, a tiny medieval town with a castle, university and church. The city seemed deserted because of the national holiday, but I noticed numerous advertisements about student parties on the walls and lampposts. Waffles and relaxed walks across the cobblestones were an excellent discharge after the Berlin rush, and besides, I tried to make the best out of the inevitable intensive German language practice provided by my location.
Day 4. To Berlin on a Shoestring
The hitchhiking trip home was supposed to be my first individual experience and it frankly scared me. Until the very day of departure, I furtively checked the Deutsche Bahn website for back-up options which obviously were unaffordable with the 10 euro I had in my pocket. I also knew that in case of getting stuck on the road I wouldn't even be able to pay for a hostel or explain where I needed to go because of my poor knowledge of geography. Besides, it was so embarrassing to ask for a lift in my bad German, that I blushed far before approaching every single car. Well, now I can say: traveling on my own turned out to be the easiest hitchhiking experience so far! Drivers stopped to help a lost girl with a map and a backpack, immediately switched to English while talking, and one woman, going in a different direction, just came up to shake my hand and to wish me good luck. For my safe trip back to Berlin, I need to thank a German professor who teaches Dutch in Bielefeld, a Georgian truck driver with Russian videos on his laptop and endless sandwiches (Hey, why do you eat so little?), and a couple of young guys from Wuppertal who were going to a four-day party in Friedrichshain and brought me all the way to the Treptower Park.
To answer the question "why do I choose this inconvenient and sometimes risky way of traveling?" I must say that financial reasons would be the least sufficient explanation. Hitchhiking gives me flexibility and the possibility to change plans rapidly, like spending one extra day in a city I like. There are no tickets and plans, only the wide road which can lead to any possible direction. It's a way to learn the geography of the country, practice languages and meet people who break or confirm national stereotypes. Hitchhiking teaches you to get rid of prejudices and helps you master storytelling and navigate brilliantly the terrain of a country. My idea to hitchhike through Latin America has not materialized yet, and there are still so many roads to explore, but I'm sure that if at some point I have a car, I won't mind stopping at a petrol station to help guys with funny backpacks who would definitely have some great stories to share.