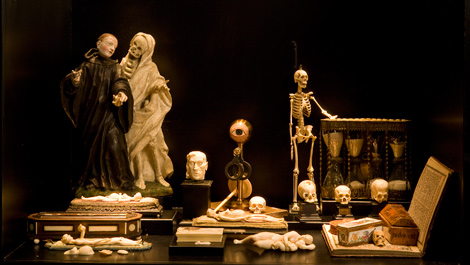 ME Collector's Room, located in the gallery–packed Auguststrasse, offers what might be the closest experience to a Renaissance Wunderkammer ('cabinet of curiosities'). The Olbricht Collection, which features works from the Renaissance up to the present day, has had its permanent home here in Berlin since May 2010.
For the collectors of the Renaissance era, their collections were not only a product of their desires and interests, but also fundamental reflections of their own self. Collecting was a way of constituting and preserving one's image, since the collectors of the time were obsessed with questions of identity. Their collections, which were consequently considerably personal, consisted of objects that also represented the knowledge of the time. Thus, these objects simultaneously had both a collective value, which held an important role in the construction of a body of knowledge, and a personal value, which constituted the collector's own identity.
These collections, which date back to the Renaissance, were divided in sections and were preserved according to certain areas of interest, such as: precious artworks (artificialia), rare phenomena of nature (naturalia), scientific instruments (scientifica), objects from strange worlds (exotica), and inexplicable items (mirabilia). This same taxonomy is applied in ME Collector's Room as well: once inside the collection, one sees how this specific classification is the principle by which the collection abides and brings its objects in conversation.
The theme that permeates the collection is that of death, or better yet––that of memento mori, the reminder that one will die. The reference to death seems to serve as platform to morality. In the vitrines of the collection, which display objects of religious significance, there is always a skull or a skeleton in black cloak that whispers to the other figurines and unsettles the calm within which they are confined.
In the exhibition space, which is separated from the private room of the collector, you can find an installation which is a contemporary approach to the memento mori theme. Once you enter the room, you are transported into a realm of unknown beauty, encapsulated in the sound of Shigeru Umebayashi's song Yumeji's Theme, a track which appeared also in Wong Kar-wai's In the Mood for Love. The room is dark, but you can see a light flashing on and off. In those brief instances when it is on, you realize that you are not alone. There is a table, on which healthy young corpses recline and around which sits, in a Last Supper fashion, a choir of skeletons. You are as if engaged in a  social gathering around a meal. The beautiful music of Umebayashi relieves you from the weight, which the fragmented light, in particular, and the scene, as a whole, put on you. Your ultimate feeling is that you've entered death unexpectedly and it's bearable; actually not that tragic at all. It is as if the experience of death is that of immortality, rather than that of an end.
Collecting objects is a way of participating in the project of immortality. Knowing that objects are not confined by time, and have only spatial reality, we invest our passion for knowledge, wonder, and curiosity in those objects' timelessness as a way for these human passions to have existence beyond ours.
For further information the link to the memento mori installation can be found here: http://www.youtube.com/watch?v=afaQ7jC1ZNs&feature=youtu.be