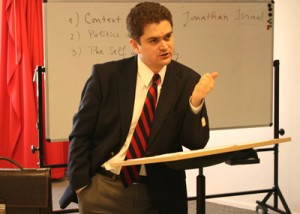 On 21 April 2008, ECLA was visited by His Excellency Theodor Paleologu, ambassador of Romania to the Kingdom of Denmark and the Republic of Iceland. Paleologu presented a guest lecture on Rousseau's Discourse on Inequality, situating Rousseau's ideas in their historical context and reconstructing Rousseau's conception of the origins of political society and the moral self.
Paleologu positioned Jean-Jacques Rousseau between the schools of the radical and the moderate Enlightenment. The radical Enlightenment represented a comprehensive ideological shift with regard to epistemology, morality and education. Instigated by Spinoza and the seventeenth-century Dutch Republic, it is characterized by emphasis on freedom of speech and anti-aristocratic politics. The moderate Enlightenment was influenced by British political thought, and principally by Locke's arguments for mixed government and constitutional monarchy, which preserved the dominant theistic worldview. In France, Voltaire was writing in the spirit of Locke and Newton. Rousseau reacted strongly against this. Rousseau's theism led him to take a position between the Jansenist belief that salvation comes only through Christ, and the Jesuits who believed that good deeds in a person's lifetime could contribute to salvation. In eighteenth-century France, where religion and politics were closely linked, the Jansenists favoured the parliament and the Jesuits supported the king. Paleologu explained how Rousseau struggled with these oppositions and how his refusal to take absolute sides in his writing eventually led him into conflict with everyone.
The Discourse on Inequality was Rousseau's answer to an essay competition set by the Academy of Dijon. In the Discourse Rousseau famously offers an account of the state of nature, which presents civilized society as a fall from man's primitive original culture into inequality and suffering. In his analysis Paleologu drew an important distinction between possession and property: The primitive human does have possessions, but only enters into a political society when he or she claims something as his or her property, to be protected by the laws of an institution. Although in the state of nature everyone is happier and healthier, Paleologu stressed that, for Rousseau, it is impossible for civil society to return to the state of nature, because of the many dependencies upon society that humans have internalized. Humans desire what they perceive others desiring and this process of mimetic desire multiplies the human passions, creating envy and the need for prestige. Paleologu explained how 'amour propre', a destructive self-love that strives to outdo others, grew out of the naïve 'amour de soi', a natural self-love that enables a person to care for his needs; in modern society humans need to be acknowledged by others, whereas in the state of nature self-affirmation sufficed. With regard to the individual way of life, Paleologu argued that Rousseau leaves open the possibility for human beings to 'return' to some of the tendencies of the human essence in its state of nature.
Theodor Paleologu taught extensively at ECLA until 2005, when he was appointed ambassador. He returns to ECLA at the International Summer University 2008. Paleologu was a research fellow at the University of Notre Dame, Harvard University and the Wissenschaftskolleg zu Berlin. His publications include Sous l'oeil du Grand Inquisiteur: Carl Schmitt et l'héritage de la théologie politique (Paris 2004), De la Karl Marx la stenograme: Cronica anului politic 2004 (Bucharest 2005) and Meditatii romane (Bucharest, 2006).
by Martin Lipman (2008, Netherlands)