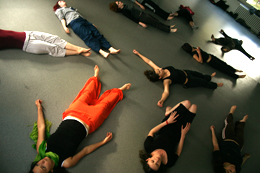 Students who showed up for the acting workshop given by actor David Barlow last week, might have expected anything. But surely they didn't expect that "VIEWPOINTS: a physical, dance-based approach to making theater" would involve two hours of simply… walking.
Walking, running, stopping and sitting on the floor, trying not to bump into each other. Then lying on the floor and letting their bodies feel the force of gravity. Then walking again. They had to learn to see and feel what everybody else is doing, to turn a dozen bodies into one organism, an ensemble.
This was the task set before them by David Barlow, whose recent works include Rinde Eckert's "Horizon", Carl Hancock Rux's "Mycenaean" (part of BAM's Next Wave Festival), Chuck Mee's "A Perfect Wedding" and "Romola and Nijunski" (Dir. David Levine).
"Viewpoints", a technique which was first developed in the 1970s by dance choreographer Mary Overlie, is a counterpart of traditional, purely intellectual approach to theater. "It is a training technique for building new theater work, for mapping out composition and movement on stage. It is both useful for actors and directors", says David Barlow. Directors can learn how to compose in relationship to architecture. And actors learn to let their bodies follow their interest. A lot of times performances are simply uninteresting to watch because the actors' main purpose on stage is to look good and to avoid looking bad. There is an old inhibition against putting children and animals on stage. It shows the artificiality of everything else, precisely because animals and children, unlike actors, simply follow their interest. If actors retrain this sensibility, it wakes the space, and then something is going on.
"Viewpoints" encourage a sensibility to our bodies in space, which we seem to have lost. Even if you get an opportunity, as during this workshop, you don't quite know what to do. You laugh and fumble with your clothes and generally just feel uneasy. And then, like in yoga, you should go back to your breath. Sometimes such a workshop seems pure mechanics, walking along the invisible grid and performing only very simple movements. "It's not about being robots", maintains David Barlow, "It's honing in on our sense of human connection. After all this kind of training you develop as a group of people. And then you have all sorts of different ways of playing with the text".
The particular text to which the Viewpoints technique might be applied next is Chekhov's "Three Sisters" scenes from which are going to be staged in ECLA this term as part of the "Acting and Directing" elective.
By Natalia Ryabchikova ('07, Russia)