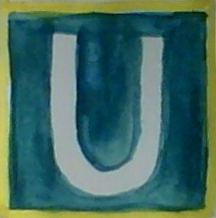 Living in Berlin for the past four months has given me the unusual perspective of someone who is not from the city, but has had far more time than any tourist to explore and discover its interworking. During my studies, I have had many guests come and stay with me, everyone cherishing their excuse to visit one of Europe's coolest cities. As a result, I have put together this useful guide for a quick visit to Berlin.
The virtual tour starts at Eberswalder Straße, a street full of shops and cafes, and one of the stops along the U2 U-Bahn line, and tram M1 and M10. From here, you are within walking distance of many treasures. If you wish to enjoy a cheap and tasty pizza, go to the San Marco restaurant at Schӧnhauser Allee 102, where you can get an entire pizza, toppings and all, along with a cocktail, for under €5. I recommend exploring the area and looking into all the little shops. Tourists tend to be particularly interested in a bar called Druide, at Schönhauser Allee 42.
If you walk southwest down Kastanienallee, one of the intersecting streets at the Eberswalder Straße U-Bahn stop, you will come across a pretty boulevard called Oderberger Straße. If you take a right on this street, you will pass many nice restaurants, as well as a delicious ice cream and waffle parlor, which is much larger than one would expect at first glance, called Kauf Dich Glücklich, located at Oderberger Straße 44. Just beyond this place, the street comes to an end and turns into Mauerpark. This park is always packed with people on Sundays, as it holds a large flea market, where you can shop for just about anything, from clothing to silverware and to food. For those interested in Berlin's history, you may be surprised to learn that this park used to sit along the line between East and West Germany.
Also from the Eberswalder Straße U-Bahn stop, one can explore what I find to be the loveliest part of Prenzlauer Berg (one of Berlin's more hipster neighborhoods). To get there, simply head east on Danziger Straße, and turn left on Dunckerstraße. When you encounter a small park, known as Helmholtzplatz, you will find many cute cafes and shops down every cobble-stoned street. Here, I recommend trying a bagel at the English bookstore, Shakespeare and Sons, located at Raumerstraße 36. Along with an amazing selection of books, they also have perfect house-made bagels and gourmet cream cheese spreads, including fig, avocado, chives, and, my favorite, horseradish-beet. They also brew some good coffee. However, my favorite coffee shop in the neighborhood is called Wohnzimmer, and is located at Lettestraße 6. Their interior is decorated in a retro style, and the environment is perfect for getting work done and enjoying some of their delicious pie.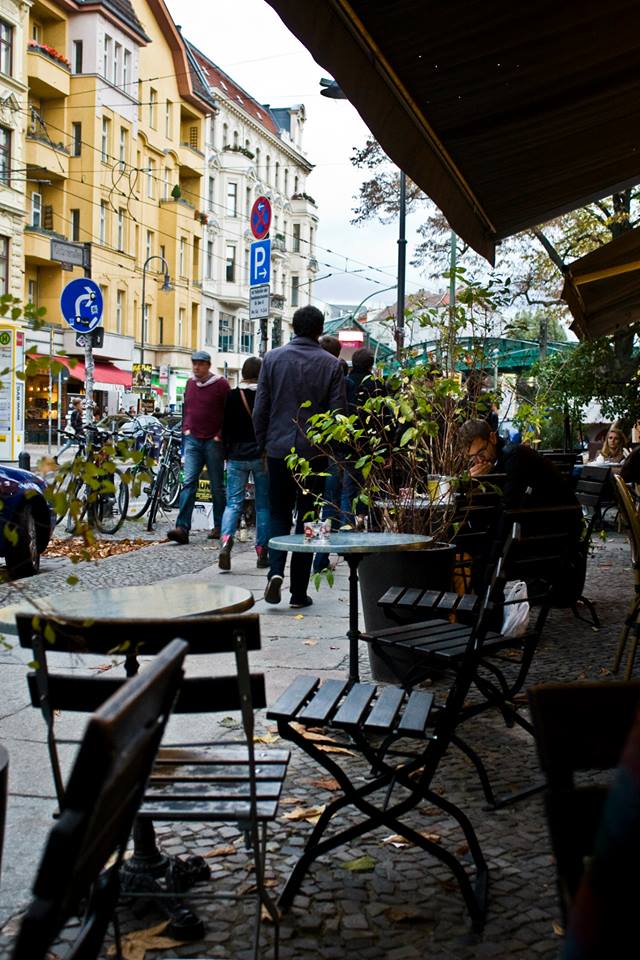 The next neighborhood I always encourage people to explore is Mitte, specifically around Rosenthaler Platz, which can be reached on the U8 U-Bahn line, or by tram on the M8 or the M1. Again, there are many cool shops to be explored. If it is a nice day, I like to get a cold beer from one of the corner stores, along with a Wunderbar candy bar, and go sit in the nearby park, called Volkspark am Weinberg. The park has a pond, lots of people, and a nice café in the center––that is, if you are looking for a coffee and do not want to leave your enchanted surroundings.
Though not loved by Berlin locals, there is a nice café with delicious foods called St. Oberholz on the corner at Rosenthaler Platz. One of its main perks, besides the nice two-story interior, is free internet access, which can be very useful when in an unfamiliar city. It is also a great place to get work done, which is made clear when you see every other customer typing away at their laptop. If you are looking for a quieter café, I suggest Alpenstück, which is located at Gartenstraße 9, and has perfect pastries and coffees, along with traditional German food. At night, you can go to their restaurant across the street, although many of the menu items are the same as at the café, but cost twice as much. If you walk down Gartenstraße one more block to the northwest, you will come across the Berlin Wall Memorial at Bernauer Straße. Also in Mitte is a bar called Schmittz (Torstraße 90), where you can play around the world ping-pong, or watch, while enjoying a beer. My favorite bar in Mitte, however, would have to be the Ramones Museum (Krausnickstraße 23). Decorated with comfy furniture and rock and roll paraphernalia, this bar is the perfect environment for a calm night out with close friends. In the back, there is a museum with many legendary photos, signed items, and artifacts, all relating to the Ramones. They also have free concerts and talks rather frequently.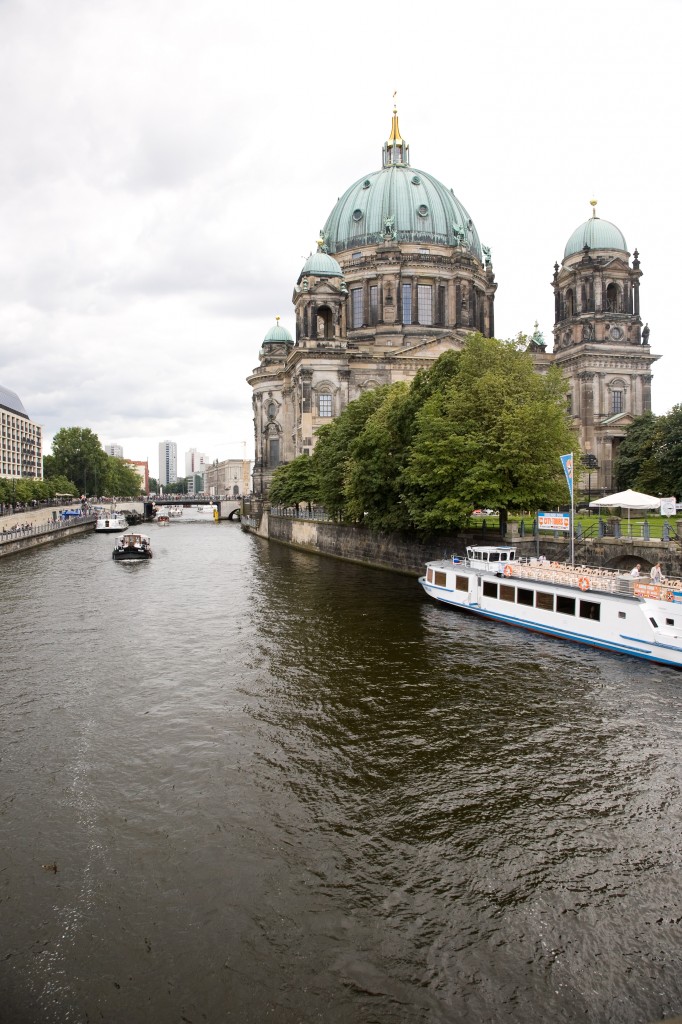 The next place I suggest visiting is Hackescher Markt, which can be reached either by S-Bahn, or a number of trams, including the M1 and the 12. The S-Bahn station itself is a beautiful building, and should not be overlooked. On the streets there are many corporate shops that can be found in any major city, with locally owned shops interlaced. I recommend getting ice cream (if you have not had enough from Kauf Dich Glücklich) at Amorino Gelato Al Naturale, where they will shape however many flavors you want into rose petals on your ice cream cone. It is both beautiful and yummy, and located at Orienburger Straße 1! Also in the neighborhood is a bubble tea place called COME BUY, located at Rosenthaler Straße 31. If you enjoy tapioca drinks as I do, visiting COME BUY is an essential part of the Berlin experience. It is without a doubt the best bubble tea I have ever had. I recommend the Pearl Milk Tea. If you are reading this and wondering what bubble tea is, it is an iced tea beverage with tapioca balls in it. Right behind Hackescher Markt is Museum Island, which houses some of Berlin's most beautiful buildings, as well as many great museums, which display everything from ancient Greek and Roman statues to modern art.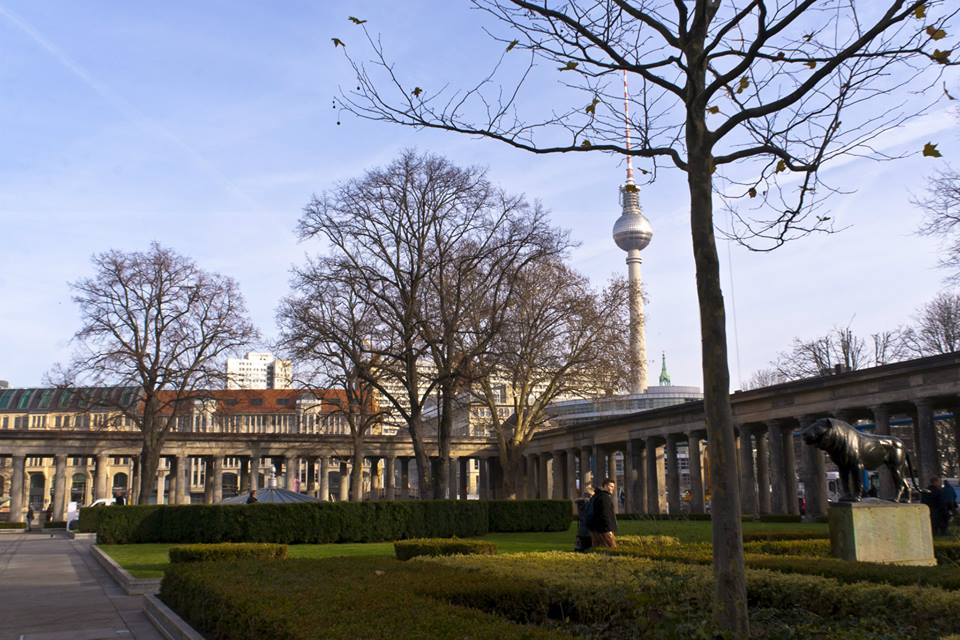 Besides visiting Museum Island, tourists also often want to see the Brandenburg Gate, the Memorial to the Murdered Jews of Europe (also referred to as the Holocaust memorial), and the Reichstag, which are all conveniently located right near one another, and can be reached at the Brandenburger Tor stop on the S-Bahn (S1, S2) or the U-Bahn (U55), or by the 100 bus. On the other side of the Brandenburg Gate is one of Berlin's largest parks, Tiergarten, which is lovely to explore and contains many hidden wonders, such as statues and ponds.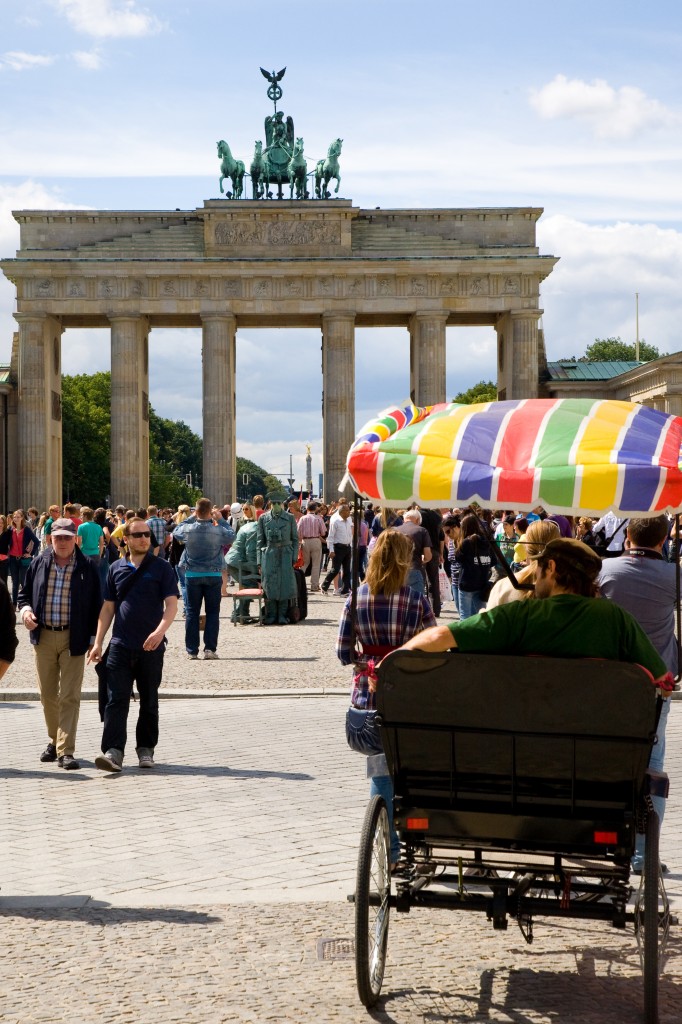 One tourist attraction that is very dear to my heart is the Ritter Sport store, located at Franzӧsische Straße 24, which is right around the corner form the Franzӧsische Straße U6 U-Bahn stop. At this site, you can shop for Ritter Sport paraphernalia, but more exciting than that, you can create your own unique Ritter Sport bar with up to three ingredients of your choice, for only €3,90. It takes a half hour for the bar to be made, but the museum upstairs is interesting enough to hold one's attention for that amount of time. However, if you wish to do something else in that half hour, Checkpoint Charlie is very nearby, at the Kochstraße U-Bahn station along the U6 line.
Berlin's street food is another important aspect of the city. Most common of which are Dӧner Kebabs (a Turkish food that consists of meat, onions, and other vegetables and sauces, all wrapped in bread) and Currywurst (a hotdog drenched in curry ketchup). Personally, I love Dӧner Kebabs, and have tried them all over the city. My favorite place is a small orange stand around the corner from the Osloer Straße U-Bahn stop (the last stop on the U8 line).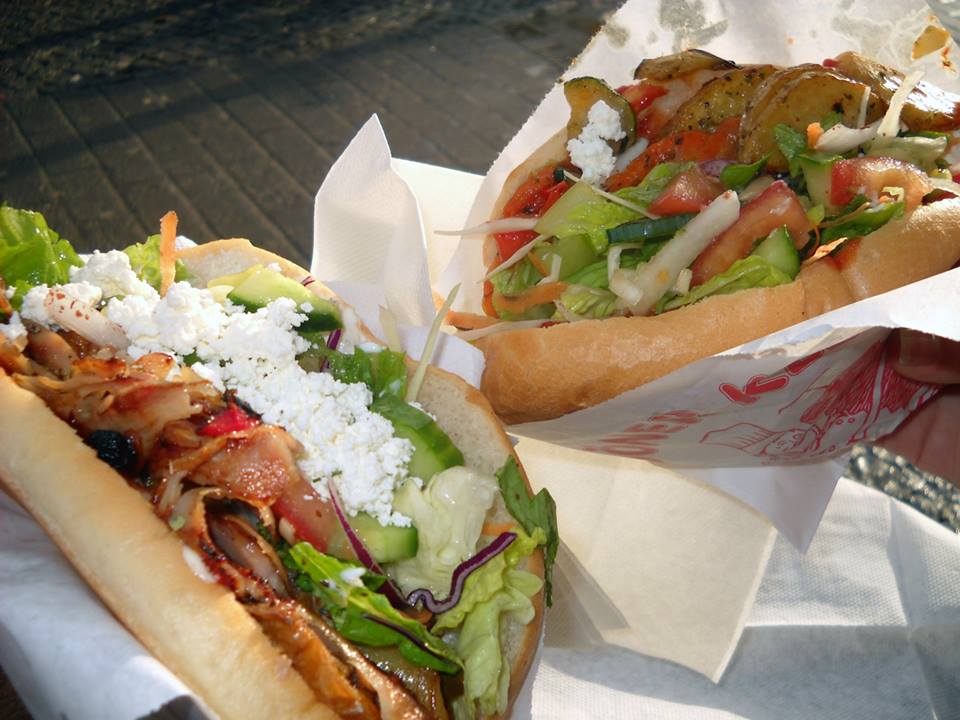 Also along the U8 line, just a couple stops away, is the Gesundbrunnen stop, right near which is my favorite grocery store in Berlin, called Eurogida and located at Badstraße 9. There you can find freshly baked Turkish bread for a very reasonable price, along with fresh cheeses and savory pastries.
Another great neighborhood to explore, perhaps my favorite, is Kreuzberg. There are plenty of great bars, shops, and restaurants just east of the Kottbusser Tor U-Bahn stop (U8, U1). On a cold night, nothing is nicer than sitting in Knofi (Oranienstraße 179), a garlic themed restaurant, and enjoying a big bowl of soup for only €3. My favorite place to get pretzels is also in this neighborhood, an organic grocery store called LPG Biomarkt and located at Reichenberger Straße 37. They are baked fresh daily and taste amazing. There is also a great ramen house along the waterfront called Cocolo Ramen Xberg, which is at Paul-Lincke-Ufer 39-40. If you happen to be in Kreuzberg at night, I would recommend the bar Bohnengold (located at Reichenberger Straße 153), which has two bars, a dance room with a disco ball, and no entrance fees. One stop away from Kottbusser Tor on the U1 U-Bahn line, or a short walk away, is Gӧrlitzer Bahnhof. From there one can find Gӧrlitzer Park, which is beautiful in the day time, and is always full of people picnicking and or enjoying lunch at one of the many bars and cafes inside of it. Right by the park is the best Mexican food I have tasted in Europe, at a place called Ta'Cabrón, located at Skalitzer Straße 60. I recommend the Pollo Mole! If you're looking for a completely free activity in Kreuzberg, and do not feel like sitting in Gӧrlitzer Park, I would suggest going to visit the Brothers Grimm burial site at Old St. Matthew's Cemetery, located at Großgӧrschenstraße 12.
The last neighborhood I like to take people to is called Neukӧlln, which is fun to explore, and full of cool bars, restaurants, and clothing stores. My favorite clothing store in this area is called Mirikado. Everything in the shop is handmade and utilizes many cute patterns. The items are unique, flattering, and affordable. Mirikado is located at Pflügerstraße 79a. If you happen to be in Neukӧlln on a Tuesday or a Friday, you might have the pleasure of running into the Maybachufer Turkish Market, which sells all sorts of delicious foods, beautiful fabrics, incense, household supplies, and more. It's also along the waterfront, and makes for a pretty place to stroll. This market is located on the street Maybachufer.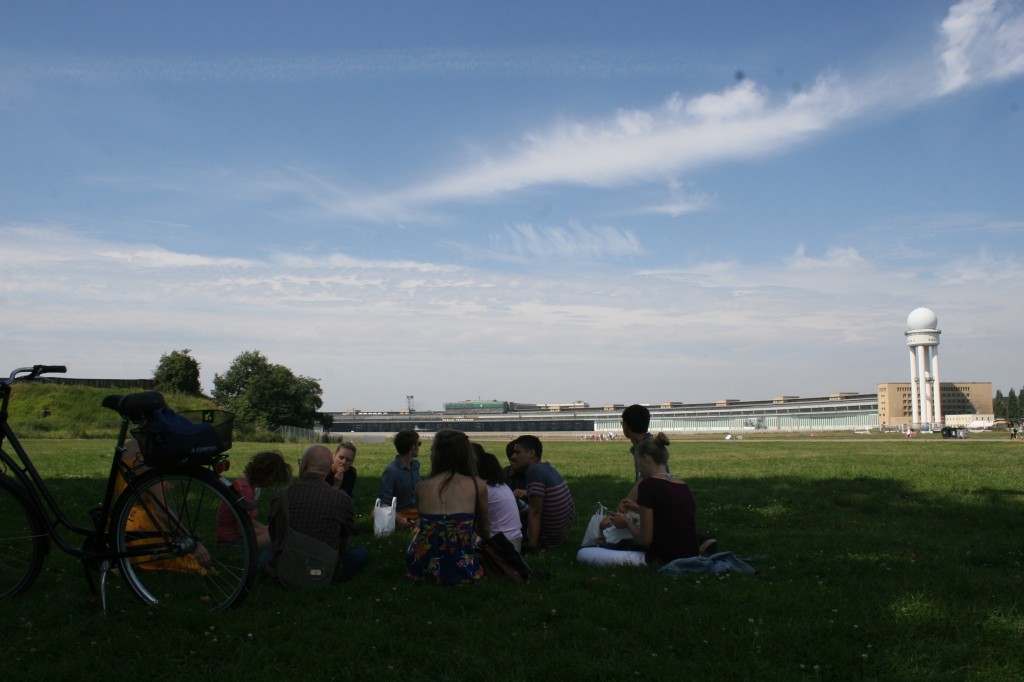 My favorite attraction in all of Berlin (yes, I have been saving the best for last) would have to be Tempelhofer Park, an old abandoned airport runway, which has been turned into an open park and community garden. There is no better place to view Berlin's famous clouds, run down an airplane runway (who does not want to do that?), and enjoy a picnic with friends.
I hope this guide has been helpful, and that everyone will enjoy Berlin as much as I have.