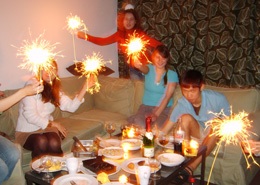 The winter break is over and the ECLA community is back on track to learn about the art and literature of the Florentine Renaissance. The students and staff had three weeks of exciting winter holidays, which brought new experiences and allowed everyone to explore Berlin, Germany or foreign countries. A lot of students travelled back to their native countries to spend Christmas and New Year's Eve in a close family circle and share the impressions about their first term at ECLA with their parents and friends. Others chose to stay on the ECLA campus to enjoy the holidays in Berlin and take advantage of the opportunity to travel to neighbouring countries or different cities in Germany. Some people combined both, going back home and returning a week or so early to spend more time with their new ECLA friends.
One way or another, by the start of the new term, ECLA buildings became a place of common gatherings and cheerful discussions about the passed holidays. One could hear about windy weather at the top of the Eiffel Tower in Paris, a lot of sunshine in Romania, gloomy rains in London and big snows in Russia. Also it was interesting to hear about beautiful Potsdam only twenty minutes away from Berlin discovered by those who stayed in the city. Inspired by exciting stories, many made plans for future trips and lists of must-see places.
The warm feeling of comfort and joy present in the air was due to the realisation that we were back together in the environment that has become so dear to us. We spent almost three months together, but a three-week break was more than enough to feel the absence of our newly found friends and the small community of people, who share common values and educational aspirations. The winter break was a good time to pause in our studies and take time to reflect upon the material explored. It was a chance to take a deep breath before setting out on another voyage in the ocean of knowledge.
By Nargiza Majidova ('07, Uzbekistan)