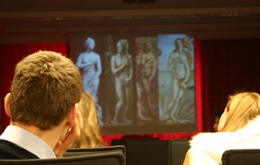 By the time spring comes to Berlin, the Academy Year students should know every corner of Florence. This is to do with the fact that the core course this term is devoted entirely to the study of Florentine Renaissance. In the last week of the term, students will be given the opportunity to actually travel to Italy and experience for themselves what they have been studying from books – a treat they have been waiting for all year long.
The interdisciplinary nature of the Renaissance allows the syllabus to combine philosophy, art, history and literature. The Divine Comedy, for example, is "a very ambitious ground text" says Peter Hajnal, term coordinator. Having discussed an ideal city in the previous term (Plato's Republic), we now move on to the real city of Florence. According to Peter, it seems that both The Republic and The Divine Comedy are about justice and its impact on the civic context and questions brought up in Greek Antiquity resurface during the Renaissance.
The trip to Florence is the culmination of the term. As Peter stated, "it's part of the core education at ECLA to participate in the Italy trip". In the previous years there have been two trips to Rome and one to Florence. Nevertheless, Peter is convinced that this year has had the best preparation yet. Activities in Florence will feature faculty-led tours as well as tours guided by an art historian from Florence. Students will contribute to this by producing beforehand a "Florence handbook", which will bring together their own research and texts about particular works of art or sites in Florence.
It is no surprise that special emphasis is given to art history this term. Geoff Lehman and Aya Soika, ECLA's resident experts, are holding lectures, discussions and museum tours dedicated to Florentine art and architecture. The images that are soon to be seen in reality, for now are projected in the lecture hall – until students get a glimpse of spring in Tuscany.
By Clara Sigheti (2007, Romania)