Over the summer, my friend Helene and I were sitting in my backyard in upstate New York talking about the importance of feeling connected to nature. After spending the first month of my summer in Berlin, and Helene having been on the road with their family, it was wonderful to reunite and catch up under the apple trees I'd been tending to since I was a kid. As two self-proclaimed country kids, we reflected on how much we appreciated the green spaces that Berlin has to offer, such as Arkenberg, Bürgerpark Pankow, and Schlosspark, especially during last year's major lockdown. Eventually, Helene and I decided that we wanted to commit to a consistent exploration of Berlin's nature and create a hiking club as a means of sharing the importance of reconnecting to nature with the greater Bard College Berlin community. After a successful club fair, during which we blasted Janis Joplin on a portable record player (!), we gathered a group of ten students to visit Tegeler Stream in the quaint town of Hermsdorf, only about 30 minutes from campus by train. Helene and I had excitedly scoured a book that their aunt gifted them about hikes around Berlin, and had ooed and aahed at the marshy fields and sparkling streams that the stream boasted.
Pankow, where BCB is located, is an interesting neighborhood in the sense that a half an hour on public transport can get you to a trendy neighborhood or a small, quiet village. It is a comforting middleground with cobblestone streets and ivy-covered houses. On a lucky day you may even see a horse drawn carriage trotting down the street from your classroom window. I thought it would be interesting to document the trek from the neighborhood to Hermsdorf and witness the slow yet drastic transformation from urban to rural. Altbaus were replaced with cottages, cars were replaced with tractors, dogs were replaced with donkeys. I wondered if it would be possible to document the exact location where things felt as though they had changed. Could it be documented? How organic was the transformation? These are questions I kept in mind as we commuted to the hike.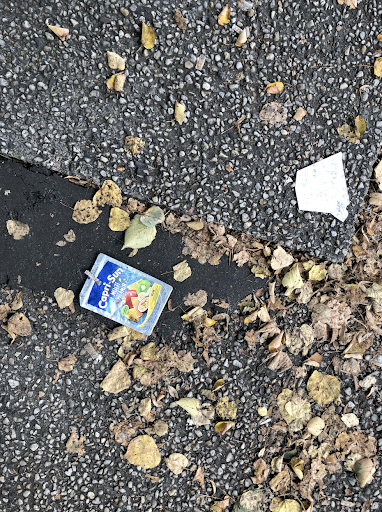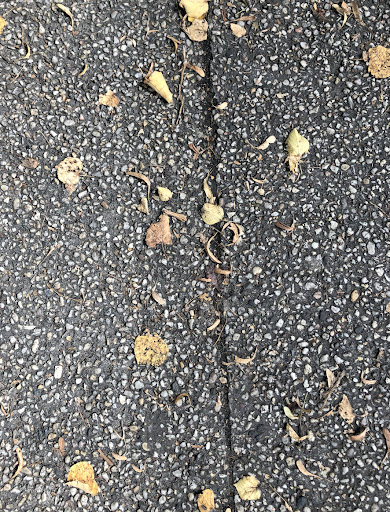 When I first moved to Berlin, I remember being amazed by the S-Bahn, a predominantly outdoor train system that stretches into the countryside. In order to get to Hermsdorf, we took the S1 north. The ride stretched from industrial towns to swallowing forest in a matter of 15 minutes.
Having arrived in Hermsdorf, we began a short walk to the stream in which we discovered funky murals on houses, strange statues, and even an old bubblegum machine!
After passing house after house and curiously looking down at google maps, I heard a friend yell out "Look!". Suddenly, the stream emerged behind a cluster of trees. With a slight breeze, the trees rustled but the water remained calm. The air smelled like earth and rain. It was so lovely.
After the initial awe slowly wore off, we started our hike. There was so much to see- the forest surrounding the lake was denser than what I'd expected. Everywhere we looked it was green- there was not a building or a car in sight. Being in a space in which there is nothing but nature is one of my favorite feelings, I felt so at peace. As we started to walk, a friend started talking about how much she loved to go to parks with her mother as a child. I asked if I could record her tale.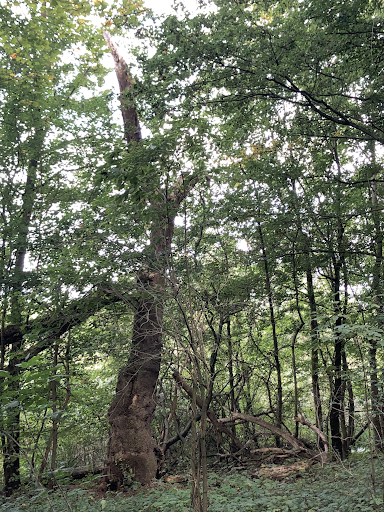 It was at this point that I started asking friends why they'd joined the hike, and why they thought entering green spaces was important. I documented a few of their responses on my phone's recording app.
At a certain point, we all got a bit tired and decided to take a break by a little crevice of shoreline. Looking out at the water moving with the soft breeze, there was a communal feeling of peace. We shared snacks and stories, talking about what we'd done over the summer, knitting projects, galleries we wanted to visit, and our favorite kinds of pie. I slung my arm around Helene, feeling proud as we watched our hikers curiously look out at the lake and point at fish.
The hike ended with a pleasant surprise—we crossed paths with a swan that had decided to settle in the middle of the road back to the train! One by one, the brave hikers snuck past the unbothered creature. It glared at us and an old couple watched us with feigned amusement as we shrieked and darted around it. In a way, it felt like a rite of passage.
On our way back to campus we were all positively sleepy. Heads on new friends' shoulders, we wandered back to Pankow as evening fell. When we got off of the tram, Helene and I thanked everyone for coming and gave out hugs before trailing behind the group. "I think that went very well!", we both exclaimed. Walking back to their apartment for dinner, we giggled thinking about how we'd come up with this idea on a whim in a place that now seemed so far away. "Let's start planning next week's hike after dinner", they said. I agreed, feeling very thankful for everything that was to come.