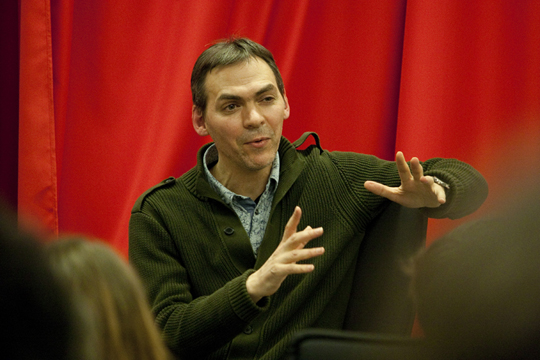 On the evening of December 5th, ECLA of Bard had the pleasure and privilege to welcome Peter Constantine. A world renowned translator, Constantine has spent the last twenty years of his career translating works by Anton Chekhov, among which some that had previously not been known to the English-speaking public.
"Chekhov worked under the motto «write until your fingers break»," Constantine explained at the beginning of his presentation. And this motto led to the writing of hundreds of short pieces of prose, and five plays, which turned Chekhov into a literary sensation during his lifetime. In fact, he was so popular, that he needed to publish under different pseudonyms in order not to over-exhibit himself to the public.
But at the time of Imperial Russia, Constantine highlighted, censorship was no different than during the Soviet Union – if anyone dared to speak against the government or produce works that would give Russian youth doubtful moral examples, those works would be censored and sealed with little probability of ever seeing daylight. Chekhov himself was not spared the eye of the government.
One unfortunate work of his happens to be "On a High Road" – a short story/play, taking place in a tavern on a high road. The plot is simple: a prince whose wife has left him goes to the tavern and in the course of the evening reveals his woes to the tavern keeper, only to have his wife arrive at the end of the play/story. After Chekhov's death, one of his brothers discovered the manuscript, and upon reading it noticed that one word in particular had been highlighted repeatedly throughout the entire work – "nobleman." The problem with the work, Constantine explained, had come from Chekhov displaying the nobility in such a vulnerable, human position to the general public – something that could not be allowed.
Yet, despite constrictions from the government, it was not impossible to express one's opinion – Russian writers had to become "master impliers, with the hope that the government officials could not read between the lines," Constantine said. Chekhov's successful career shows how well he himself had mastered the art of implying. And in his short life, this brought Chekhov not only recognition, but also numerous awards, among which the prestigious Pushkin Award at the age of 26.
Similarly to Chekhov, Peter Constantine is also widely recognized across the world, having won numerous awards for his translation work. After the presentation ended, the true conversation with Constantine began, moderated by Paris Furst, a second-year student at ECLA of Bard.  The audience asked numerous questions, ranging from the world of translating through the work and life of Chekhov to the career of Constantine.
One major difficulty that Constantine identified with translating Chekhov specifically was the political context of 19th century Russia. "Allusions are a reoccurring problem," Constantine explained. Some people choose to explain through footnotes, yet Constantine was never interested in doing that. Another problem was the stylistic choice of translation – from 19th century Russian to English, and the decision of whether to translate the work into 19th century English or modernize it. Especially with Chekhov, modern translations sometimes do not work out well with certain pieces.
Finally, the question came of what to translate – the already translated body of work by Chekhov or something unknown to the English world. Recently, Constantine has focused on previously unknown works, such as "On a High Road." He highlighted, however, that ever since the 2009 crisis, the market has become almost unapproachable for new works. Publishers, it seems, prefer to promote something well-established that is more likely to be accepted by colleges, rather than to take the risk of presenting something hitherto unknown. In either case, Constantine advised, if one is thinking of a career in translations, it is better to earn a degree in something else, and perhaps have an academic career, since translation is usually not a good bread-earner.
Yet somehow, Peter Constantine has successfully worked in this field for more than twenty years, translating not only Chekhov and his contemporaries, but also works from German, French, Greek (Modern and Ancient), Italian, Albanian, Dutch and Slovene, all of which he speaks well, if not fluently. Today, he lives in the United States, and his focus falls on his Chekhov project and on his first attempt at writing a fiction book inspired by the life of his grandparents.