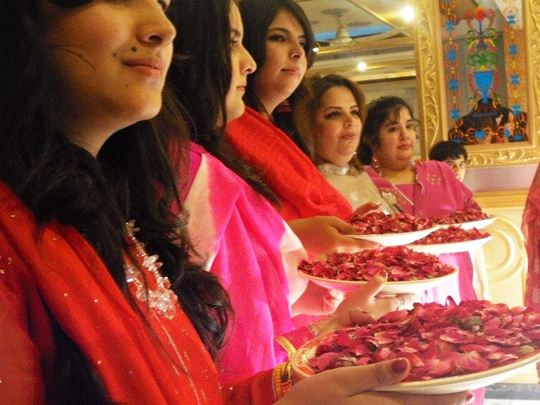 Lahore, Pakistan
18.01.2013
Dear ECLA,
Pakistan is a country of sweet contradictions and extremes, from the Himalayas to the Indus River. Such is my experience of living in this country. I come from the city of Lahore, which shares borders with India. Lahore is Pakistan's cultural capital and is the second largest city in terms of population. The theatre, television, cinema, literature and the beautiful colonial and Mughal architecture in Lahore are all of historical importance. Winter is mild, with January slightly chillier, yet still one of the most pleasant months of the year. The golden sunny days invite people to sit outside on their lawns or in parks, often enjoying winter with barbecues and teas.
This is also when the wedding season kicks in every single year. Because of the scorching heat in summer, people wait for winter to organize their weddings. On more than one occasion, my friends from the West have questioned the traditional institution of marriage in my country. I am often asked: 'Do the bride and the groom know each other before they get married?,' 'Are women allowed to choose their own grooms or are they involved in this decision at all?.' Of course I cannot answer on behalf of the 180 million people living in Pakistan and each marriage has its own framework. But what I prefer to highlight is the social importance of a wedding ceremony in Pakistani society. Weddings are an occasion on which political debates, social arguments and family disputes are discussed and settled. On our weddings we meet the extended family, sing songs, dance to Bollywood music, laugh at our politicians, fight over political beliefs, and share various conspiracy theories, while aged aunties inquire about unmarried people in the family.
On a recent wedding I overheard one of my distant aunts talking about me secretly to another aunt: 'She must be having an affair with a Westerner.' A distant cousin who had studied Medicine in the UK was also present. He looked around condescendingly at all his Pakistani loud relatives and seemed least interested. All the women with daughters of marriageable age hovered around the young doctor as if he were Mr. Darcy from Pride and Prejudice. The wedding faded away after the bride and groom had left. But people stayed on, sipping Kashmiri Chai (Tea) with Carrot Halwa. Men gathered around in a corner discussing politics. Some middle-aged men walked out of that discussion and joined the tables where the women were sitting. Somebody asked the most pernicious question of the day: 'What did the bride's family give to the groom's family?.' One of my aunts provided the exact figure spent on gifts — it seemed a lot. This gave everybody enough evidence to make guesses on the bride's family's source of income. 'One briefcase, ji, one briefcase' shouted one of the guests. The term 'briefcase' is often used in Pakistan to suggest bribery which has either been given or taken in the form of a briefcase full of money. The people at the table agreed. The discussion again turned to the political situation. This time they discussed the new political program that focuses on the India-Pakistan relationship. One of my uncles discredited the Indian government, completely forgetting that half an hour ago his daughter had performed one of the latest Indian songs beautifully. In fact, the whole wedding hall was still under the spell of those dances and songs played during the ceremony.
Amidst all this sat I, wondering and thinking about my life at ECLA in Berlin, about my seminars, the people I see in the streets and my friends. It seems difficult to join these two worlds, but each has something unique to offer. Pakistan is intense, and living here requires explicitly saying what one thinks and feels with everyone around. The society's core belief lies in human contact, both emotionally and physically. You feel the warmth and closeness even during a chaotic wedding or a nasty political situation. And on the other side of the world lies Berlin, quiet and silent — yet in its silence grow my mind and heart that yearn for truth.
With love from Lahore,
Maria