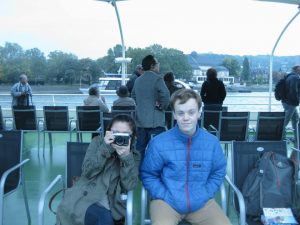 All through school my dad would reassure me that I was a "college person," meaning that while maybe high school wasn't the best, I would find whatever I was looking for in college. When I walked onto the ECLA of Bard campus, nearly empty—since I was a day early—I finally understood that he was right. I was going to be a "college person"; the freedom and independence that come with the self reliance and responsibility, taking the classes that matter to me, living in a dorm. ECLA of Bard then became the embodiment of all these things, from the old embassy dorm buildings to the walk back from the cafeteria. If I close my eyes and think of the word "college," the ECLA of Bard campus, students, and teachers will come to mind. And then I remember that I've never actually attended the college I'm really attending.
I visited Bard College once; it was the spring break of my senior year, so my mom, my sister, and I took a trip from the West to the East Coast of the U.S. and ended up at John F. Kennedy International Airport. We made a map of all the universities we needed to visit within that week and divided our time between attempts to maneuver through the throngs of Time Square, frantically navigating the metro system, and driving through the peaceful New York countryside. Even after a fifth exhausted college tour, Bard still struck me as a school where I could see myself kicking the autumn leaves off the paths between literature and creative writing classes. It was on this tour that I first heard about ECLA of Bard, and the opportunity I could take to study abroad in Berlin for my first semester or year. After a few hours of questions and tours, we hopped into the rental car and drove back through the dozens of toll booths until we reached our hotel. My sister and I gave my mom a pat on the back for managing to drive through Times Square during rush hour and not get hit or hit somebody, and then I retreated to the quiet of the hotel's hallway, sat down on the scratchy maroon carpet and called my dad all the way back in San Francisco to tell him about going to Berlin.
It's now the end of October and I've never been back to Bard. I paid my deposit for school in the spring and immediately wrote my application for the study abroad program. Next thing I knew I was packing my bags, crossing off the final items on my to-do lists, and climbing up the plane ramp with my family waving good bye at the entrance. I realized recently while sitting in my bed, surrounded by my various posters torn off Berlin walls and postcards collected from galleries, that in my mind I'm not studying abroad. This is home; the mint green, striped blanket covers, the Berlin Art Week tote bag holding my various scraps of paper, the Body Pressure poster from the Hamburger Bahnhof. All of these things are not "abroad," they are right here with me, coloring the place that has become my college. Then I remember that there is a bed for me in Red Hook, New York, with different colored blanket covers and different tote bags and different museum posters. But it's that room that feels abroad. I suppose that this is what it feels like to study abroad for your first year of college.
The two Berlin programs that Bard offers in Berlin are "Begin in Berlin," for first years, and "Bard in Berlin," for third years. It made me curious to imagine how the experience of the third years must be because when it comes to the rooms that I described above, it's the one in Red Hook that is their home while the bed in Berlin is "abroad." And somehow that can make a world of a difference; establishing a place as something temporary or something permanent will shift one's perspective of that place. In my position, everything is new; not only the city or the language but also the college culture and the whole concept of an institute of higher learning. I wondered whether it changes your perspective on everything around you when just the language or the city is new? What does ECLA of Bard look like through the eyes of a Bard student?
Many of the main comments that I have gotten from talking with the Bard third years are in regards to the size of the school. My first impression of the ECLA of Bard campus was how spread out everything was, even though the buildings are about a block apart at most. I'd always been used to public high school campuses where all of the classes were concentrated in one or two big buildings, even though there were at least four times as many students. However, the Bard campus is much different in this respect and many of the Bard students have noticed how small ECLA of Bard actually is. With over two thousand students, the Bard campus extends past a comfortable walking distance between every building, while ECLA of Bard's eighty students take up four or five close-knit buildings. But the size does not only affect the physical aspects of the college, it also affects its resources, number of activities, and general vibe. Bard is like a city in a small town, while ECLA is like a small town in a city. As Martha Fearnley, a Bard third year, puts it "Bard has a lot of resources that come with being a bigger school that ECLA of Bard doesn't have access to, and on the flipside ECLA of Bard has advantages in being so small." Many of Bard's student resources come from its one hundred and twenty clubs, ranging from the Buddhist Meditation Group to the Theater Club, run by a "Bard in Berlin" student, Marissa Shadburn. Bard creates a community within the school that enables students to participate in diverse activities without having to travel to New York City. ECLA of Bard, on the other hand, has the advantage of a small, casual community that is both "independent" and "focused" (Martha Fearnley). With few students and a huge percentage of diversity, almost every student at ECLA of Bard can be roomed with a student from another country, which in a way makes the small town-like campus turn into a microcosm of different parts of the world coming together. And in this way, ECLA is bigger than Bard.
Another comparable difference I've noticed from the comments of Bard students is the opportunity to be in the city. With Pankow just a short tram ride from downtown Berlin, students have the chance to really experience the things that they learn from various museum trips, art galleries and shows. And not only are those students studying abroad taking their classes in philosophy, literature and art, but they are also learning about an entirely new culture. Living in Berlin is like a class of its own; everyday you learn something new, whether it's a word or a phrase or a quirk. While I, a Bard first year, don't know anything different than having Berlin as my college town, studying abroad later on allows you to see Berlin for the educational experience that it can really be. Many of the Bard third years enjoy taking advantage of such an opportunity by exploring and experiencing as much of the city as possible before they return to New York. This allows them to never take the city for granted and get the most out of their semester abroad as possible.
Studying abroad is not an easy thing to do; it means leaving the comfort of home and the country you know to go and live in a place new and different. I frequently forget how fortunate I am to be able to study abroad for my first year, before the pressures of school and then easy reliability of people and places you know make it difficult to leave. Both Bard and ECLA of Bard are exceptional in the amount of students who study abroad: the national average in the U.S. is only 1% of students in institutes of higher learning who study abroad. And Bard is extra exceptional in allowing first years to do so. So perhaps the experiences between "Begin in Berlin" and "Bard in Berlin" students varies, but either way, studying abroad allows you to bring a unique perspective to how you approach the city or town you live in, because instead of this just being any town or city where you live, it becomes something special, an opportunity, a chance. This is what it means to be "Barding in Berlin."