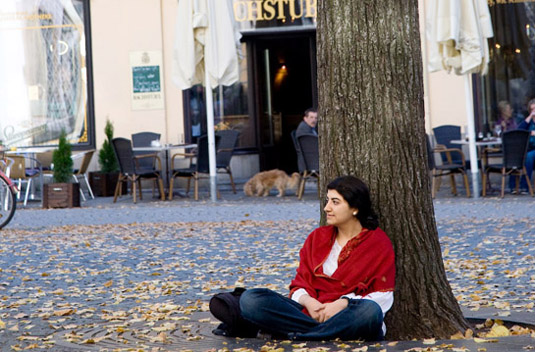 I completed the Academy Year programme at the European College of Liberal Arts (ECLA) in the summer of 2011. This fall, I returned to ECLA for the BA program. During the whole recent year, I worked with a theatre group and also taught theatre skills back home in Pakistan. Working in the theatre industry required long hours of physical labour, and my working hours extended to twelve hours a day. My only relaxation remained savouring my days at ECLA. Every night, as I would lie down after an extremely fatiguing day, I would look back to the walks taken in Pankow, to the exciting essay-writing process, and – of course! – to the friends that I had discovered in Berlin. Although I was not physically present at ECLA, I remained deeply connected to it.
My reason for coming back to ECLA was greatly determined by the desire to strengthen my foundation in humanities. My year in the theatre industry helped me discover my passion for teaching children philosophy and religion through the medium of performing arts. I knew that ECLA's curriculum and unassuming environment would help me acquire the necessary skills and knowledge.
During the entirety of last year, ECLA went through a structural change and it is now one of the many satellite colleges affiliated with Bard College in Annandale-on-Hudson, New York. Apparently, many administrative changes have taken place: Bard students have come to ECLA for a semester or a whole year, increasing the number of students on campus; a student centre along with a writing centre have added to the number of structures on campus; various plans have been introduced as an effort to gradually expand ECLA.
Despite these expansive measures, ECLA has retained its intimate and intellectually stimulating environment. When I came back to ECLA last month, I felt as if I had returned home. I grew up in a large intimate family and my father's intellectual discussions helped us become distinct from one other. Despite our differences, my parents taught us to love each other and examine our own behaviours very carefully. The rigorous academic life at ECLA and the intense residential life resonate a lot with my childhood back home in Pakistan.
Here at ECLA, I spend most of my days relishing my French and German classes, writing and thinking critically, and reading Montaigne and Hegel. I feel that the residential life's most interesting aspect is sharing common spaces with people from all over the world. In this process of sharing and living together, I have always found friends from different corners of the world. Living on-campus can be very intense for some, but the intensity has always helped me understand the diversity of human nature. This experience makes me contemplate, and creates a world removed from a specific culture, nationality, and tradition. Finally, it allows me to form my own truth and grooms my ability to simultaneously love and judge.