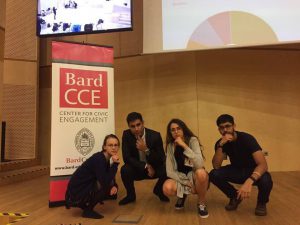 A few days ago I followed up with Veronika Rišnovská about her clowning project. The project is part of the Civic Engagement initiative at Bard College Berlin. It aims to train students as medical and social clowns so they can bring joy to children in hospitals, orphanages, and refugee camps in Berlin. Since our last interview she has attended a conference held by the Bard Center for Civic Engagement at The Central European University in Budapest. There were about 35 students in attendance, all from universities in the Bard network including Al-Quds Bard College for Arts and Sciences in Jerusalem, American University of Central Asia in Bishkek, Krygyz Republic, Bard College in Annandale on Hudson, New York, Bard College at Simon's Rock in Great Barrington, Massachusetts, European Humanities University in Vilnius, Lithuania and The Faculty of Liberal Arts and Sciences of St. Petersburg State University (Smolny College) in St. Petersburg, Russia — and, of course, Bard College Berlin. The week-long conference brought together passionate students leading civic engagement projects and it facilitated idea sharing and collaboration. In addition to attending workshops and networking, each student made a short presentation about their project. The Civic Engagement grant supports a variety of initiatives including public speaking, MUN, human-rights, language teaching, working with kids, recycling, and many school magazines.
The conference had four BCB participants: Irina Bunčić (BA 2018, HAST) with her project Tell your (Hi)Story, Mohammadali Ghods (BA 2019, EPST) with Arabic 101, Movindh Manirajah (BA 2019, EPST) with Debate Outreach, and Veronika (BA 2020, HAST) with Clowning. The conference was rather informal in format which allowed students to become closer as friends while learning from each other's experiences and ideas. Veronika points to a workshop on empathy with Paul Marienthal from Bard Annandale as one of her favorites, saying, "I work a lot with empathy in my project, and Paul's incredible energy while talking about the matter really drew me into the content of the workshop and made me think about the ways we speak and listen, about what empathy actually means, and how to practice it." The students were also asked to slowly create mind-maps of their projects over the course of the week, which Veronika described as "a helpful tool to get to know what I need, how to ask for my need, where I want to go, where I want my project to go, and how I want to work with volunteers." She hopes to continue her project in the coming year with bi-weekly workshops and more off-campus visits. "Everyone is welcome to drop-in at any moment during the semester" she says, "no previous experience needed, only a willingness to understand and make fools of ourselves."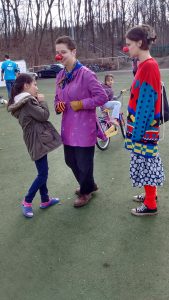 In addition to mind-maps and brainstorming ways to expand their existing projects, students were asked to think about how they could connect different projects in a cross-network collaboration and then, in the months following the conference, had a chance to apply for a small grant with a proposal for either collaboration or expansion. During the conference, Veronika described meeting "one amazing soul from Smolny College called Natasha Tarakanova that is starting a new project called 1:1 Recovering without Falling Behind. She would like to teach kids in the local hospitals so they won't be left behind with school work and will still feel socially included. This project also requires a lot of work with empathy and well-trained volunteers. Since Natasha is only starting, we had an idea that we could have a small exchange of skills and experiences with empathy and kids through a 3-day long workshop on empathy in Smolny and then at Bard Berlin, and then publish our findings, answers, struggles and questions in a small handbook on empathy that could later be sent to all Bard network colleges since every social engagement project has at least a little bit to do with empathy." The pair was excited to receive the grant of 700 dollars from the Civic Engagement Centre at Annandale and are now beginning the long process of planning.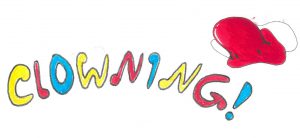 Their concentration on empathy seems particularly important in light of a study conducted at the University of Michigan which "revealed a dramatic decline in empathy levels among young Americans between 1980 and today, with the steepest drop being in the last ten years. The shift, say researchers, is in part due to more people living alone and spending less time engaged in social and community activities that nurture empathic sensitivity." It has also been proven that an increase in empathy not only benefits those around you, but also leads to better relationships which, in turn, make you a happier person. In addition to promoting better relationships with others, Veronika says that "to be truly empathic you first need to be fine with yourself." For her, teaching empathy is grounded in self-reflection and self-knowledge. When describing her workshops she explains that "my approach contains body-mind practices that calm you down and teach you how to gain an overview of any situation to see what is really there, inside you and around you. I also organize 'ask your need sessions' in which we learn how to ask for what we want and not just give. These are the two pillars I start building on. Once these pillars are set, we go on with active listening and communicating our emotions and feelings. Because that is what empathy is really about: It is not an agreement but a willingness to understand." After the clowns go out and interact with kids, there comes more reflection on the experience. Veronika explains that they sit down and "talk about it, see what we could have done better, where we weren't sure, what worked and what didn´t. And we try to find solutions together as a group."
Veronika is looking forward to leading these sessions at Smolny in what she "already knows is going to be an amazing collaboration." Although dates are not yet finalized, sometime next fall the clown will be on her way to Saint Petersburg to spread empathy and laughter in as many places as she can.
Notes:
If you know who this picture can be credited to, please do not hesitate to contact us (blog@berlin.bard.edu)
http://www.bakadesuyo.com/2015/09/power-of-empathy/