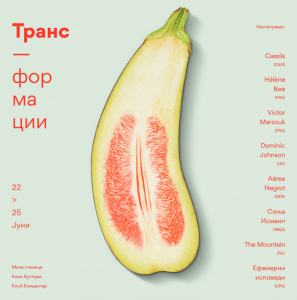 The first time I attended a Macedonian Pride related event was in June 2016 when I saw African-American intersex-born, genderqueer performer, artist, and generally wonderful human being Vaginal Davis. She projected some of her experimental films and gave one of the most entertaining Q&As I've witnessed. Anders Stefanovski — one of my best and queerest friends — and I were then taking part in a celebration of  Pride Month in Skopje under VMRO-DPMNE (Internal Macedonian Revolutionary Organization – Democratic Party for Macedonian National Unity)'s right-wing, toxically heteronormative reign. The participating crowd was mostly queer and not too big. With Anders still finishing his exam sessions in the Netherlands and the Social Democrats coming to power just a few weeks before this year's Skopje Pride Weekend, the event felt much different this time around. 
Given the fact that Pride events as well as the LGBTi center and the unofficial gay bar "Damar" have been attacked by homophobes in masks before, it wasn't surprising that my parents asked me if it would be safe to go before I left the house. Not only was it safe, but people seemed to be in a wonderful mood. "People are starting to relax now that VMRO's gone," my friend Igor commented. When I arrived at "Stanica 26", a cultural center in Skopje of significant size, I even had difficulty finding Igor, the friend that I was supposed to meet up with, because of the sheer volume of the crowd of queer people and straight allies alike waiting to get in. The theme of this year's Skopje Pride weekend was "Trans-formations" — a title that carried a number of connotations. One transformation was a change in the political regime, something largely contributed to the buoyant  atmosphere of this year's Pride. For the first time in Macedonian history, the Skopje Pride Weekend was opened by the new Social Democrat appointed Minister of Culture, Robert Alagjozovski. Mr. Alagjozovski, a man whose physical appearance is outside the Macedonian norm, proclaimed "I am a part of you" and spoke of the new government's readiness to work towards the betterment of the treatment of the Macedonian LGBT community. It was a historic moment indeed.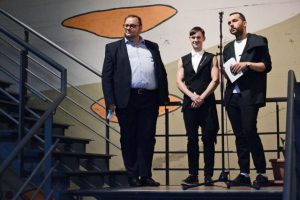 Still, all of this progress didn't make up for the fact that my best friend couldn't share in the event with me – selfish, I know. When I asked how much importance this particular Pride event held for him, Anders explained: "Skopje Pride is so much more subversive and radical than prides in the West. It's not this big entertainment event that people go to to just march down a street and party, where it's mostly a socially accepted image of LGBT-ness — not queerness because it doesn't deserve that 'radical' a label. Instead, Skopje Pride has a diverse range of events showing different experiences, views, bodies, and identities, not just buff white gay boys or conventionally accepted appearances and people of that variety." With speakers and performers from diverse backgrounds often taking part in subversive acts involving performance art, photography and other media, Pride in our arguably conservative country is inclusive of many identities without conforming to one type of non-heteronormativity. For example, the performance art of Friday June 23rd by French artists Hélène Bee and Victor Marzouk titled "Metagender" involved one of the actors wearing a prop that looked like a one-foot-long penis while the other read aloud the absurd sexual laws of the world they were creating on stage, satirising the unwritten sexual/gender rules of our global heteronormative society. One law, for example, pronounced that sexual intercourse could only occur with the presence of a contract. Certainly, this play is not trying to win over more conservative audiences that might prefer the narrative of monogamous "Modern Family"-esque gay couples. Instead, it takes everything that heteronormative society stands for and flips it on its head, demanding that there be space for more than one type of queer.
Unlike Bee and Marzouk's act, the faces and bodies most visible at Pride events are often ones that already fit the mold of heteronormative beauty standards, making non-heterosexuality more easily digestible for the straight majority. In the sense that Skopje Pride does not take part in this kind of pandering, it can be said to directly draw from the roots of Pride and the LGBTQ rights movement. Whoever knows their queer history knows that the gay rights movement started with the Stonewall Riots of 1969. Anti-gay laws were so outrageous in the US in the 60s that the climate demanded a radical social movement. Indeed, "solicitation of homosexual relations was illegal in New York City, and there was a criminal statute that allowed police to arrest people wearing less than three gender-appropriate articles of clothing." One of the few refuges for queer people were gay bars such as the Stonewall Inn in Greenwich Village in New York City. On June 28th, 1969, when the police raided the Stonewall Inn and arrested 13 people, some of whom they accused of "violating the state's gender-appropriate clothing statute,"  riots erupted that lasted for six days. Among the first people who began to fight back against the police were two trans women of color, Marsha P. Johnson and Sylvia Rivera – a fact that is often forgotten, or, as in the case of the whitewashed Stonewall film of 2015, replaced by a blonde, Midwestern, white, gay guy by filmmaker Robert Emmerich. The first Pride was riot; it was about a drastic change of the status quo, not trying to blend in or find a small, cramped space to fit in. It was about unapologetic queerness in the face of cissexist, racist, heteronormative police brutality supported by right-wing politics.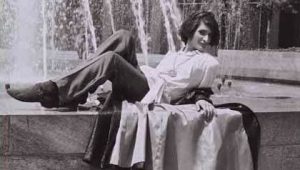 The Stonewall Riots, as well as the many types of activism that followed them, have helped the LGBT community garner unprecedented favor in certain parts of the world. The UN declared gay rights to be human rights in 2016, a number of countries recognize trans* people and identities, and 22 countries — Germany being the latest to be added to the list — have legalized same-sex marriage. Many more people now think of themselves as allies of the queer community, and, obviously, this is something that we should be celebrating. Support of LGBT rights has increased so drastically that companies and corporations find it increasingly more beneficial to get their rainbow on and stand with the queer community rather than against it. Now, this is something that we should be weary of.
Frankly, my first response to the temporary Facebook feature the Rainbow Pride react was excitement and overuse. I even texted Anders to post something gay so that I could use it. It was particularly fun to use it on any VMRO-DPMNE related post. However, I did have a problem with how this new feature was introduced. It wasn't immediately available for use by everyone:  one had to go and like the LGBTQ@Facebook page in order to enable it. Of course, this isn't difficult to do. The problem lies in the fact that Facebook made a particularly calculated business move with this feature. It specifically pandered to the queer community without alienating the bigoted or right-wing Facebook users who wouldn't want the feature. Instead of taking an unapologetic pro-LGBTQ stance, Facebook capitalized on the popularity of Pride in specific user bases without risking their favor with others. This is not activism: this is Rainbow Capitalism.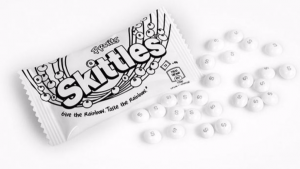 Another company that has been capitalizing on Pride is Skittles. For the second year in a row, Skittles has given up their usual colorful packing, opting for a complete white substitute on the basis that "during Pride, only one rainbow matters." In addition to this supposed show of support, they donate 2p per pack to Tesco's LGBT+ charity initiatives. On the surface this seems harmless and maybe even helpful. However, this is an insult to what Pride is about. If Skittles truly wanted to help the queer community, they would have given up most or all of their earnings from this candy edition. Instead, Skittles chose to use Pride as a marketing ploy to sell more candy and increase corporate profits under the facade of supposed open-mindedness and charity. It seems that queerness matters to Skittles as long as it sells and LGBTQ people are apparently only worth 2p per pack.  
This kind of queer tokenization can lead to even more insidious consequences than larger profits for corporations. It can be used to justify oppressive regimes under the guise of shallow liberalism. On June 15, the right-wing former Serbian Prime-Minister, now President Aleksandar Vučić, appointed Ana Brnabić as Serbia's new prime-minister. Brnabić, who had previously served as Serbia's Minister of Public Administration and Local Self-Government, became the first woman and first openly gay head of a Balkan state. The news made international headlines given the Balkans' notorious conservatism and the fact that there have been only four other openly gay heads of state worldwide. Taken at face value, the news is exciting. In fact, that is the point of such a political move. Brnabić was not elected but was rather appointed. President Vučić is not only a former ally of the late Yugoslav/Serbian strongman Slobodan Milosevic – a man who headed an authoritarian regime in Serbia and has been charged with war crimes that include genocide  – but Vučić himself led and will almost certainly continue to lead an oppressive regime. Being the head of the Serbian Progressive Party, which is only progressive in name, Vučić has pushed nationalist rhetoric, committed possible voter fraud and controlled the media to such a point that it incited massive protests in many Serbian cities this spring. "The problem is that [Brnabić's appointment] will mask the real picture of the situation of civil and human rights in Serbia." stated Boban Stojanović, a political scientist at the University of Belgrade, for The Guardian.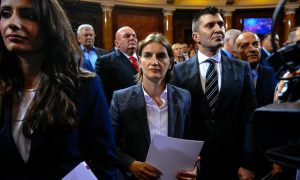 To put it in different terms, the Serbian government is engaging in "pinkwashing". Pinkwashing refers to the act of promotion of (supposed) gay friendliness by a corporate or political entity in order to hide the negative aspects of said entities. Aside from the lack of legal recognition of same-sex relationships, public sentiment towards the LGBT community is beyond problematic: according to The Guardian "65% [of Serbians] believe that homosexuality is an illness and 78% think that homosexuality should not be expressed outside homes." With such a high degree of homophobia, Serbia cannot possibly be a place that is progressive enough to pass pro-LGBT legislation, let alone elect a gay prime-minister. To make matters worse, these opinions have translated  into violent actions in the past: the Belgrade Pride Parade has often been subject to homophobic and transphobic violence. Not to mention that under Vučić there has also been antagonization of non-LGBT minorities, especially Albanians — Vučić's government recently sent a train to Kosovo with "Kosovo is Serbia" written in 21 different languages, heightening the tension between the two countries.  Whether or not Ana Brnabić could prove herself a good prime-minister is almost irrelevant. Personally, I highly doubt that she could make a good head of state since Vučić still holds office i.e. he would have the real power and she would be a puppet figure. What is most important to note is that her appointment is nothing more but a pinkwashing act designed to distract the greater European and international community from Serbia's deeply corrupt, bigoted, and what some assess to be an authoritarian government.
This Pride Month, as every month, we should acknowledge our steps towards equality and celebrate different sexualities, bodies, genders and identities. However, these achievements should not be taken at face value and we must remember what the fight has been and must continue to be about if we are to see any real progress in ensuring the rights and genuine acceptance of the LGBT community in today's society. The first Pride started with a brick, not a Facebook Pride react. The first Pride was about recognition, not rainbow-themed corporate profits. The first Pride fought against police brutality, not to get a lesbian to partake in a  regime that incites violence against minorities. Pride must not turn into a way of increasing capitalist gains and justifying right-wing regimes. A movement started by something as subversive as the Stonewall Riots must continue to be about radical politics, real inclusion and unapologetic queerness.  
Sources:
Macedonia: Spate of Anti-Gay Attacks. Human Rights Watch. July 10, 2013.

History.com Staff. "The Stonewall Riots". History.com. Publisher: A+E Networks. 2017.

Ibid.

King, Jamilah. "Meet the Trans Women of Color Who Helped Put Stonewall on the Map". Mic. June 25, 2017.

Minay, Michael. "Skittles Have Ditched Their Rainbow Colours To Celebrate Pride". The Lad Bible. June 15, 2017.

MacDowall, Andrew. "Serbia gets its first female – and gay – prime minister." The Guardian. June 15, 2017.

Ibid.

Delauney, Guy. "Train row almost pulls Kosovo and Serbia off the rails" BBC News, Belgrade. January 18, 2017.