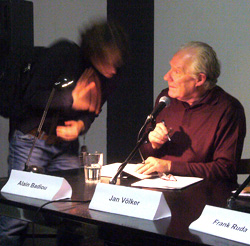 Things happen in a city like Berlin. There is almost too much to do, too many things to experience. Ground-breaking exhibitions, grand festivals and public lectures by world-famous thinkers are on constant offer. So it was that on Thursday 18 and Friday 19 January, the renowned, left-wing French philosopher Alain Badiou gave two public lectures in Berlin, on democracy, and on art and politics. Someone at ECLA found out, an email was sent and two days later a large group of students found themselves amid the crush of academics, political activists, artists and students in the Senatssaal of Humboldt University.
The first lecture, titled '"Democracy" against Democracy', was an investigation into the conceptual relationship between philosophy, truth, democracy and politics. Badiou claimed that democracy is not reasonable: reason concerns itself with the truth, the favouring of one true thing above others; democracy concerns itself with equality. For Badiou, this fundamental realization gives rise to others, including a view according to which democracy is not an end in itself, but a means – just one possible route on the journey towards a new politics. Professor Badiou is a witty and charismatic speaker, true to the tradition of modern French philosophy. After the lecture, ECLA students and faculty split up to continue discussions in one of Berlin's many bars and cafés, stopping off for the traditional Döner at Hackescher Markt, in the hub of Berlin's nightlife district.
The second lecture, 'Art and Politics', held at the Institute of Contemporary Art, proposed an understanding of contemporary art as 'descriptions without a place'. Badiou connects the decontextualized state of contemporary art with that of contemporary politics, and drew upon his own interpretations of the poetry of Wallace Stevens as an illustration. Badiou envisages a new form of politics – a 'coming together' prior to and above any form of state or government. Quite a group returned from the previous day's lecture; others joined anew. The lecture inspired debates that ran seamlessly into the Berlin night. Having picked up a couple of revolutionaries and philosophers on the way, it was unsurprising the ECLA contingent found itself ending the evening on the couches of the infamous Communist party bar, which offers free entry to real revolutionaries. Students, unfortunately, had to pay!
by Martin Lipman ('08, Netherlands)