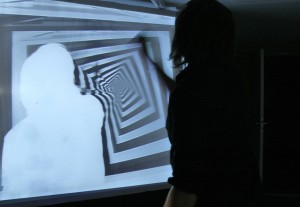 For eight ECLA students, there loomed a particularly stressful date in December: Wednesday 9th, at 19.30, when the final autumn term Installation showings were scheduled to take place.
For a number of students, with elaborate projects in mind for the final showing, the race against time started a few days in advance. This event was distinct from the previous presentations in many ways as the students were no longer restricted to working in their own studios. They could use any platform to develop or display their art work, so long as this was connected to their working space somehow.
Hence, the kitchen was invaded with tiny dinosaurs, dying for ever in the sink, the toaster or the fridge. The wooden deck in the garden was occupied by a giant dying light bulb, which created a 'hospital scene'—encountered by many with a feeling of pity –intended to evoke the consequences of the global energy crisis.
Furthermore, this was a chance for some students to re-exhibit their previous installations, with a few technical improvements. Varushan's stop motion movie was projected again in his studio, while his new installation took place in the garden. Nastya's video was projected again in her work place, with sound improvement, while her dinosaurs were becoming extinct in the depths of the kitchen. Finally, Luzie projected her video in the hallway.
The final Installation showings brought more visitors than past events.  The guests were offered a table of salty and sweet bites, together with red wine.  The event provided to be a chance to see the students' achievements. The students had now managed to find their proper way to express ideas or feelings, which made each installation very unique. Vira's slap-in-the-face showings were a must-see, as well as Varushan's highly elaborate work, or Anna's quieter pieces, to name just a few.
However stressful the showings may have been, the students always highlighted how much fun they had preparing for them, and how enriching the process was. Still, this is not quite the end: for the first time in ECLA, there will be an advanced studio class that will enable these aspiring artists to further explore the methods and mediums of artistic expression developed within the first term.
by María Cruz (AY '10, Argentina)