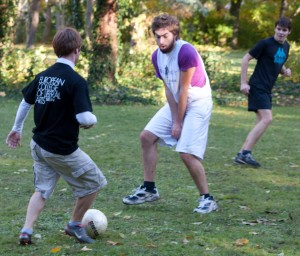 "Every time you lose at dodge-ball an innocent angel dies," is what my mother used to tell her once meek and sickly son in order to incite a competitive spirit. My mother's plan worked to perfection. From the very first time I heard that the lives of angels depended on my playground performance, I have seldom lost at anything. The consequence of growing up with this immense responsibility that entails guarding the lives of innocent angels was a firmly established competitive hunger that needs to be regularly satiated.
Coming to the European College of Liberal Arts, I thought that my competitive nature needed to be tamed in order to better fit ECLA's intellectual environment. But then I discovered the soccer field right behind my dorm. On it, I noticed this round thing and patches of burrowed grass and dirt which told me that the field was recently used. The competitive spirit inside me was suddenly roused and I was compelled to run around the field a few times just to calm down so that I could proceed with other daily activities.
The very next day eight of us gathered on the field, all brave and fierce, mentally and physically prepared to test each other's strengths and weaknesses, to bring the best out of each other, to push each other to the limits of pain and exhaustion, to give our 110 percent, and all the other clichés. We fastened our shoelaces, pulled up our socks, and waited for the sound of a whistle. As soon as we figured out that no one brought a whistle and that the whistle itself was a trivial detail, face-off took place in the middle of the field and the chasing of the round thing began.
The chasing lasted for two hours and during this time all of the major skills of the game were covered: passing, ball control, heading, dribbling, turning, yelling, pretending to be hurt, running with the ball, shooting, defending and much more! And by much more I mean that we had a great time. Many of us had never played and many had played a significant amount, even those who had still played as if they had never stepped on a soccer field before.
The skill level of our play spans from elementary to moderate and almost never adequate. To prove this point, our most prolific scorer Jakob Dreyer has scored many awe-inspiring goals, but at least a third of these bountiful and incredible displays of back-of-the-net action have resulted in goals for the opposing team.
And whenever any one of us begins to think for a moment that he is approaching something minutely athletically impressive (and do be aware that only very rarely does this happen because even the qualification of 'proficient' cannot be applied to the vast majority of play on this pitch), the rest of us promptly deflate his ego by assuring him that what he perceived as athletic is actually nothing more than pathetic!
It must be clear by now that confusion and bruises are the chief components of our soccer matches.  But fun and silliness also belong to this group of irreplaceable ingredients whose mixture is the treat that we call Wednesdays and Fridays at 4:00 pm.
All of us are aware, some much more so than others, that athleticism and competition are not the things to strive for in our games, but instead to view our game as a great release and great exercise, and most importantly great fun.  And in case you may be wondering, my mother is quite proud to know that I've discovered a way to save the lives of countless innocent angels and have fun at the same time.
by Milan Djurasovic (AY '11, USA)