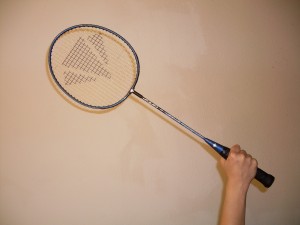 In an ordinary day of October, the brave, the mighty and the talented of ECLA gathered at the SPOK fitness centre for the annual badminton tournament. Grouped in six teams, with each team playing a match against every other team, students and professor alike indulged in the pleasures and pains of badminton. After almost two hours of playing, a little tired, the participants headed towards the centre of the arena to find out the results of their Sunday effort.
Although nobody contested the triumph of the dean, with five consecutive wins and no losses, the announcement of the second place for the team formed by Karen and Jakob caused great stir amongst the participants. Milan, the initial third place runner up, contested the officials' Martin and Helmich criteria for deciding the final standings, considering it unjust and deeply unfair.
After a re-evaluation of the situation that has taken into account the total sum of points achieved, rather than direct confrontations, everybody agreed that the definitive rankings should be:
1.      Gabriela Ionascu + Thomas Nørgäard: 5 wins, 105 points;
2.      Blerina Fani + Milan Djurasovic: 3 wins, 103 points;
3.      Karen Huang + Jakob Dreyer: 3 wins, 96 points;
4.      Doina Proorocu + Alina Floroiu: 2 wins, 90 points;
5.      'The Pink Socks' Sofiya Skachko + Nicola Pacor: 2 wins, 82 points;
6.      Nastya Geinrikh + David Luna Velasco: 0 wins, 56 points.
Taking part for the first time in a badminton competition of such scale, Gabriela declared her joy for what she considers to be a surprising result: "I used to play badminton as a kid on the street in front of my block, and when I came in the arena today my thought was at least to hit the schmetterling right. I guess I owe my first place to having Thomas as a partner." With powerful shots that proved difficult to return and an inspired tactics, Thomas is considered to be the objective winner in a competition in which many have struggled, but few have managed to find the weak spots of the opponents.
"All is well even if it ends well!" concluded the participants and then proceeded by eating the tournament's trophy, a box of chocolates.

by Diana Martin (PY '11, Romania)