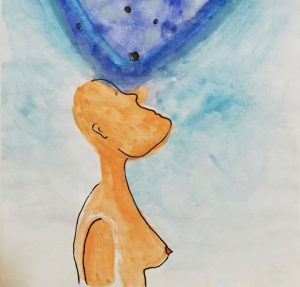 Learning. How does one learn? For whom is one learning? These questions have followed me as long as I can remember. Throughout my academic experience, my answers varied from "I am learning for the satisfaction of a good grade" to "I am done with learning." Now, I find myself back in an academic environment (after a year of working) and suddenly, expectedly, these questions are more relevant than ever.
Now in the fourth week of the semester, I am beginning to — through dialogue and self-reflection — discover new answers to these age-old questions. I decided to explore my thoughts on this subject through a specific format inspired by the Immaculate Heart College Art Department Rules by Sister Corita Kent [*1]. The original set of rules were introduced to me during the Language and Thinking course, and I decided to explore them further due to individual interest in both the format of the piece and the topic itself — how to think and learn.   
∙∙∙
RULE ONE: Work harder (whenever you can)
RULE TWO: When you can't work (harder), use your energy wisely. This means to not self-destruct, but to self-construct.
RULE THREE: Force yourself to produce. Anything. Always.
RULE FOUR: Never throw away your art.  
RULE FIVE: Before critiquing blindly, engulf yourself in the concept. Before critiquing anyone else, look at yourself. Before critiquing yourself, critique your critique.
RULE SIX: Contradictions = Movement
RULE SEVEN: First ask yourself "have I done enough?" Then ask yourself, "am I being honest?"
RULE EIGHT: The beginning of a class is for you to check, not showcase, your understanding of the matter.
RULE NINE: Allow yourself to admit that you don't know.
RULE TEN: Consider your exploration of the world (aka a bus ride, a conversation, and so on) at least as important as a lecture. Treat it accordingly.
…
During the process of creating this piece, the significance of thinking about thinking became clear to me. This is the whole point: to act with intention, whether this be the act of being in a classroom or in the act of thinking. It seems to me a waste to do anything but this. The rules presented in this piece both instruct a certain mode of specific behaviours and, through their effect, ask the reader to question, critique, reflect, and (most importantly) think.
*I would love to hear/discuss your ideas on learning and being a student, and thinking, and being in general.
Notes:
Kent, Corita, and Jan Steward. 

Learning by Heart: Teachings to Free the Creative Spirit

. Allworth, 2008.