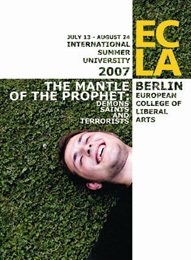 On July 16th ECLA inaugurated the International Summer University 2007 with the opening lecture on Dostoyevsky's Demons given by one of ECLA's ISU faculty, Melinda Harvey.
This year's summer programme brings together 41 students from 21 countries and international scholars specializing in Russian literature (Frank Goodwin, University of Florida), continental philosophy (David Durst, AUBG and Bartholomew Ryan, Århus University), political thought (Theodor Paleologu, Ambassador of Romania to the Kingdom of Denmark and the Republic of Iceland), and film and literature (Melinda Harvey, University of Sydney). Over the six intensive weeks students will explore themes of nihilism and culture, cynicism, violence, terrorism and religion all arising from the reading of Dostoyevsky's Demons – the focal text of the course.
The academic schedule is complemented by a series of visits to Berlin's cultural institutions, such as the German Historical Museum and Hamburger Bahnhof Museum of Contemporary Art, led by an art historian specializing in German Expressionism, Christian Weikop, from Sussex University.
ECLA will be also hosting several special guest lectures, which will be open to the public. The guest lecturers include Costica Bradatan, who taught at ECLA in the ISU 2006 (lecturing on Camus and Nechaev), Christina Gerhardt (on representations of terrorism in literature, art and film) and Fernando Reinares, Professor of Political Science and Security Studies at Universidad Rey Juan Carlos as well as Senior Analyst on International Terrorism at Elcano Royal Institute for International and Strategic Studies in Madrid (on global terrorism).
We wish all the students a stimulating and productive term both inside and outside of the classroom and a memorable summer in Berlin.
By Alicja Weikop