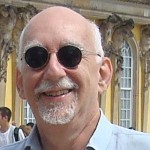 "However flawed toleration may be, a decent human life would not be possible without it. And it is most needed in situations when it's difficult to achieve," Dr. Ira Katznelson said during his lecture at ECLA on July 27.
Author of many books and publications, former president of the American Political Science Association and of the Social Science History Association, Dr. Katznelson is currently a professor within the History and Political Science Departments at Columbia University, where he has taught for the past 15 years. At ECLA he gave an engaging and structured presentation on the topic "What is Toleration? Reflections on the Civil Membership and the Western Liberal Tradition." The definition of toleration offered by Dr. Katznelson for the purpose of his lecture was "an act of reflective and deliberate not-doing against those you dislike even if you posses the means to do so." We appreciated his comprehensive approach to the topic, as he drew a link between several of the texts we read in the past three weeks, toleration and cruelty, the topic of focus during Week 4.
His main contention was that toleration and liberalism enhance one another, but that it is too dogmatic to think this connection is obvious and indisputable. To support his argument, Dr. Katznelson discussed the main principles of liberalism and pointed out difficulties in completely reconciling it with toleration. For example, liberalism supports the rights of the individual, but tolerance emphasizes the need to set boundaries which may limit certain rights.
This was Dr. Katznelson's first visit to ECLA. "I'm quite interested in the nature of liberal arts education generally and therefore the kind of experiment ECLA represents, a small, intensive, multinational education focused on questions of values and reading great texts. [I think] this is a successful format of education," he said.
Liberal arts education plays a role in promoting toleration but it's not sufficient, Dr. Katznelson said. While this type of education enhances appreciation for human diversity and forces us to think hard about our assumptions, it alone gives no guarantees. At least equally important is the existence of institutional arrangements that give scope to diverse ways of living because one person at a time is not enough to create a setting of toleration. Human history gives examples of people who were educated in the liberal-arts tradition but did not practice toleration. "A good liberal arts education forces individuals out of their zone of comfort and asks them to understand a wide range of experiences, cultures, practices. Hopefully that makes toleration more likely. I think it does," Dr. Katznelson said.
We hope Dr. Katznelson will return to ECLA and were happy to hear that he enjoyed his time with us as well: "I've been treated with warmth, hospitality and intellectual engagement. Even though I've been here a short time, it was extremely interesting to me," he said.
By Nora Georgieva (ISU 2009, Bulgaria)