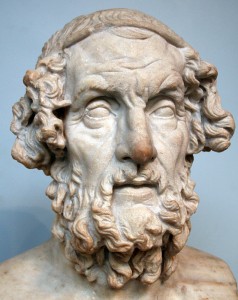 Continuing the Berlin Weekend programme, on Friday night we gathered at ECLA faculty member David Hayes' apartment to share our favourite poems both in translation and in the original. Sitting on chairs or on the floor, we let our poems flow in circles, immersing ourselves in the mysteries of language.
The night was opened by Robyn Mayer, who recited Hendrik Marsman's poem Herinnering aan Holland / Memory of Holland. The poem represents an emotional description of Robyn's country, a "limitless low-lying land where the sky hangs low and in grey vapours of colour, the sun is slowly blurred".
The poem chosen by Luzie Meyer, Hälfte des Lebens / Half of Life by Friedrich Hölderlin, was a celebration of exuberance and spectacular beauty, while Anna Csak introduced us to the despair and lack of hope of Attila József, a poet less known outside Hungary. The poem chosen by Anna is entitled Születésnapomra / For My Birthday and offers a bitter take on Attila József's troubled life. "Gimcrack knickknack […] The thirty two are gone, and heck, I've never earned a monthly check".
Luisa Tolu decided to present Antoine Cassar, a Maltese poet who explores the way in which words from various languages can be combined in order to create powerful and exotic sounding poems with a fluid rhythm. His background as a translator allows Antoine Cassar to write his mosaic-like poems not only in his mother tongue, but also in English, Spanish, Italian and French. Luisa revealed his special style with the poem Nota Bene:  "The skies are cold and bleak, passo appresso passo mi pento e mi rinvio, nuit d'orage, cri sauvage".
Dialog interior / Interior Dialogue, the poem that I recited, invokes "the grand silence that is necessary in order for any dialogue with one's own self to become possible". It is a poem full of plastic images and mystery, born from the imagination of the surrealist painter Victor Brauner.
The readings closed with the lines of Mark Halliday, as David Hayes recited the poem The Boiling Water. All of us gathered there could identify with Halliday's words in respect to the year at ECLA about to begin:  "Serious for us that we met…"
At the beginning of every academic year, and also during the summer school, students and faculty gather to learn more about the special features of each other's cultures, ranging from literature to gastronomy. This ability to create a place where we can inspire one another through shared exploration of our various backgrounds is one of ECLA's cherished traits.
By Diana Martin (AY '10, Romania)