► Monday: Not my Revolution, if …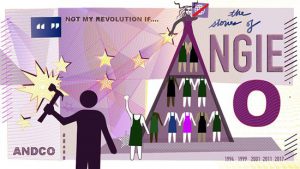 Staged as a musical, the stories of a fictional anti-globalization activist unfold satirically. Angie O. is the kind of activist you would come across in every movement, from Occupy Wall Street, to anti neoliberalism in the Maxican jungle, to hugging trees, protests against banks, and the list goes on. The performance tackles issues of hypocrisy, economics and self-serving factors as a motivation for activism in today's neoliberal world and how activism can be a productive force in challenging and redefining the status quo.  
When: 20:00
Where:  Stresemannstr. 29, 10963 Berlin
Admission: 11€
► Tuesday: Tatjana Turanskyj's Disorientation isn't a Crime & Short-films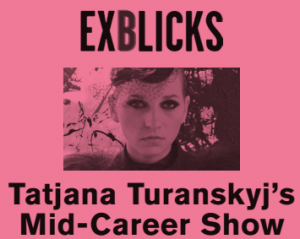 The re-inventor of the cinematic German feminist narrative and award winning director Tatjana Turanskyj  reflects on the status of today's working women in Berlin. The heroines of her movies and short films are often depicted as sexually emancipated yet trapped within a dilemma of post-feminism. 'Disorientation isn't a Crime' follows the encounter of a socio-political journalist and an activist. As they get to know each other, the women's firmly held and often contradictory views on various current issues, such as the politics, activism, and global capitalism, gradually begin to shift. Together, they travel through rural Greece as they try to make sense of the status quo with their newly found perspectives.
When: 20:00
Where: Lichtblick Kino – Kastanienallee 7710435 Berlin
Admission: 6€ for 2 tickets
► Wednesday: George Condo – Confrontation
Confrontation "is about putting things together and seeing how they react to one another" – George Condo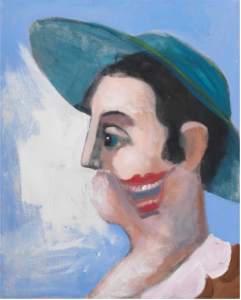 Combining the works of Condo from the 1980s with the works of classical modernists like Picasso, Matisse and Klee, this contemporary art collection not only leaves the audience in awe, but it also traces the developments and changes in artistic techniques and themes. Condo regards his own artwork in a comic and ironic manner. He does more than fuse various genres such as the nude, the still life, and the portrait from the European and American tradition, he alludes to historical occurrences, art history, and even pop-culture. This fusion of genres and intertwining with history stems from his belief that painting is a "process of mutual references and traditions constantly in motion".
When: 10:00-18:00
Where: Berggruen Museum – Schloßstraße 1, 14059 Berlin
Admission: 7€ including access to the permanent exhibition
► Thursday: Tortured Voices Exhibition
"My mom returned from the interrogation. She was beaten green and blue. I was so scared, I couldn't even scream"
The works of the anonymous Iranian artist consist of abstract pictures, photographs, voice recordings, texts and statistics that work together to create a factual narrative of the torture victims of 1980s Iran. The artist aims to give voice to the silent victims. She does so by using the perspective of children who survived torture themselves, or witnessed it. The children's perspectives serve as an entryway to the suffering.
When: 9:00 – 18:00
Where: Alte Jakobstraße 149, 10969 Berlin
Admission: free
► Friday: Anna Sebastian's Art Exhibition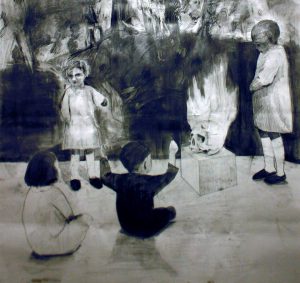 Anna Sebastian masterfully and unconventionally blends painting and drawing to create a sense of a distorted and fantastical dimension of reality that is unattainable yet very familiar.  Through her construction of an alternate reality, she contemplates a parallel way of existence and takes the audience to a dreamlike world influenced by 1960s films, art history and modern literature.
When: 18:00-23:00
Where: ReTramp – Reuterstr. 62, 12047 Berlin
Admission: free
► Saturday: Looking & Being Looked at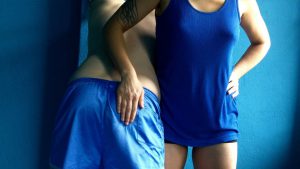 Featuring 7 video pieces of the Berlin based writer and artist Vika Kirchenbauer, the screening focuses on the representation of the 'other' and relationality in identity politics. The artist addresses the issue of 'looking' and 'being looked at' and how this almost instinctive act has implications for the individual in the larger context of being. There will be a discussion with Kirchenbauer and a fellow artist and writer Katrin Mundt following the video screening.
When: 20:30 – 23:00
Where: Kotbusserdamm 22, 10967
Admission: 7€
► Sunday: Christmas Garden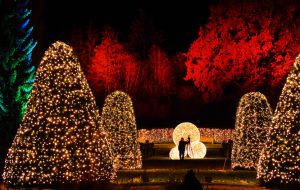 What's a better way to welcome December and truly embrace winter than to take a surreal stroll in Berlin's magically illuminated botanical garden? The massive garden has over a million light installations and many 3D Christmas figures dispersed throughout to convey a fairyland feel. An enchanting strollisn't the only thing to enjoy: You can also warm yourself by the cosy fireplaces and savour the delicacies on offer. If you're the adventurous type, there's an ice rink open to all visitors who wish to ice-skate.
When: 17:00-23:00
Where: Königin-Luise-Straße 6-8, 14195 Berlin
Admission: 15,50 €
[hupso_hide]