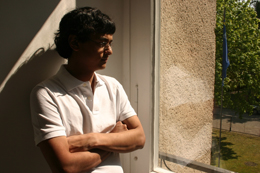 The time has come to think about the future, as we are now only 8 weeks away from the end of the academic year. With this in mind, the students are facing important decisions about their professional and academic careers. However, the fog may clear if instead of wondering about what the future holds we draw upon all that we've experienced and what we've learned at ECLA so far. This is what Jeff Marshal (Academy Year 2007, USA), Pranab Singh (Project Year 2007, Nepal), Lia Tarkhan-Mouravi (Academy Year 2007, Georgia) and Mariam Gagoshashvili (Project Year, 2007, Georgia) considered before making their big decisions.
Jeff decided to continue his education in liberal arts in the United States and feels that, "there just might be life after ECLA. It will surely be interesting to go back to the States after one year in Europe". His choice to continue studying at a liberal arts institution (Clark University, Massachusetts) was influenced by the experiences of this year: "I was definitely interested in this field of study, but at ECLA I became more determined, I understood better what liberal arts are". Confident about his future, Jeff says, "The world is my oyster; perhaps I'll specialize in archaeology or become a philosopher". Either way, his choices are highly motivated by conviction – "liberal arts are the way for me" he adds.
Pranab knows not only that there is life after ECLA, but that "there is a lot of it out there". Next year he will continue his career in Nepal in the field of social entrepreneurship – which is also the focus of ECLA's Annual Conference  "I will take this year to work and then I might apply for a master's degree in New York" he said. The fields he would like to study are business, creative writing and aesthetics. He is particularly interested in an individualized study program at New York University, where "you basically tailor your own interdisciplinary degree". As guest speakers from Ashoka, a network for social entrepreneurs, will take part in the ECLA Annual Conference, Pranab is certain that this event will be integral for his future development.
Lia and Mariam grew up together, studied in Hungary together, came to ECLA together and now they will also return to Tblisi together. Their plans after returning to Georgia are still unclear, however there is one certainty: "Mariam and I want to continue doing installation art" said Lia. "There aren't so many artists who do this in Georgia and I was just talking with Mariam about how we shouldn't waste what we have learned" she added, referring to the installation class they both took in the Winter Term at ECLA. Saying how much she loves creating installations, Lia hopes to find a good audience for such art in Tblisi. Resolving to continue creative exploration, she and Mariam will soon set off from ECLA – as always – together.
As for myself, I also believe that what I've learned this year is valuable for my future. Liberal arts have made me more socially aware, especially in terms of the effects of constructive and non-constructive education. Having identified what is lacking in my own education, I hope to develop an NGO conference promoting political science to high-school and university students in Bucharest. Since Romanian high-school graduates are not introduced to political science in school, studying at university in this field without prior experience creates difficulties for students. I am hoping to make this change.
Is there life after ECLA then? I suppose we have little choice about this – there just has to be!
Article by Clara Sigheti ('07, Romania)